France's Sapin Sees December Deal on Greek Debt Without 'Drama'
Mark Deen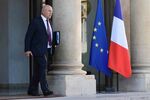 French Finance Minister Michel Sapin predicted that talks on reducing Greece's debt burden will be difficult though they will be successful by December without significant "drama."
"It might difficult but it won't be a drama," Sapin said at a meeting of European finance ministers in Bratislava. "We saw what drama meant in July last year and it's unlikely that we will see that again."
Euro-area finance ministers sounded a familiar alarm bell about lagging Greek economic reforms at the meeting, saying the nation still has much to do to qualify for its next aid payout. The economy chiefs, meeting in Bratislava, expressed frustration that Greece hasn't made sufficient progress in realizing its latest set of creditor-imposed conditions.
Even so, Sapin so emphasized that a debt reduction accord is needed.
"We need to allow Greece to have a sustainable path," he said. "A decision needs to be made by December to retain confidence."
Before it's here, it's on the Bloomberg Terminal.
LEARN MORE