Style
How to Layer Up for the Cooler Weekends Ahead
Step one: Buy a denim jacket.
By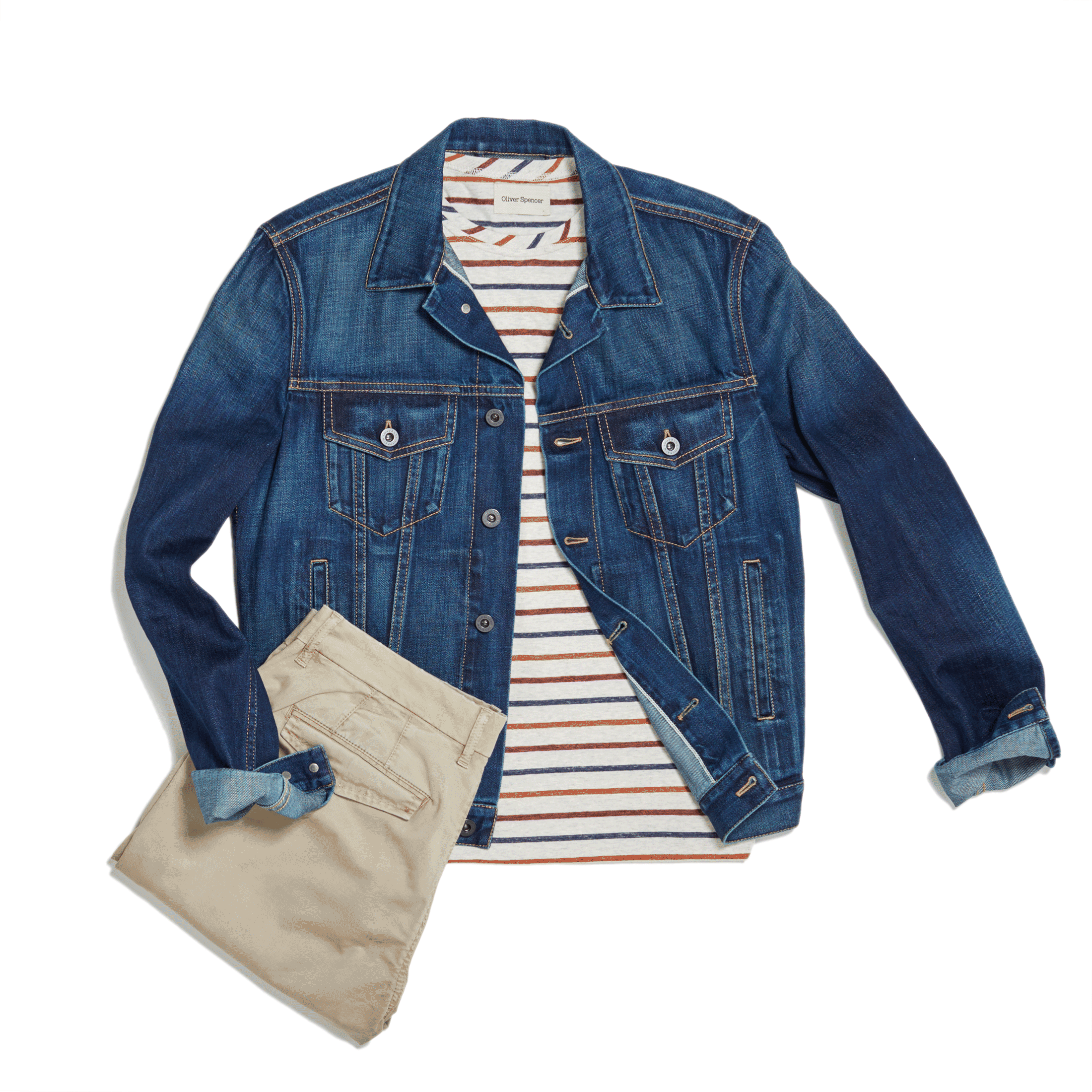 Welcome it or not, cooler temperatures are on the way. So this week, to cap off our summer style series, we look toward fall, specifically to the denim jacket. Consider it your soon-to-be outerwear staple—and learn how to layer it right. 
There are two important factors to consider when buying the perfect denim jacket: the wash and the fit. 
The wash: A denim jacket can be one of the most versatile garments in your closet. You can pair it with anything from a chino pant to a pair of sweats and layer it over a pre-fall knit or your favorite T-shirt. It's important to select a medium blue wash denim with little or no distress. That way you can dress it up or down and wear it as frequently as you want. 
The fit: When it comes to denim jackets, you don't want to size up. Denim is a stiff fabric, and when you have a lot, it will just look silly on you. Therefore stick to your size or try a size down. Make sure it's snug on the shoulders and hits right at the hipbone. 

There are good denim jackets, and there are great denim jackets, and then there's this Burberry denim jacket: Expertly constructed and tailored, it'll last a lifetime. Plus, the darker wash is perfect for the new season. ($595, burberry.com) 

Dress up your denim jacket with khaki-colored chinos. The texture isn't too matchy-matchy, and the lighter color compliments the darker wash in the best way possible. ($148, johnvarvatos.com)

Layer with a graphic shirt. Since you're wearing a jacket over it, the bold pattern will be muted, showing just enough of it to make a statement. ($82, oliverspencer.co.uk)

Sunglasses aren't just a summer weekend essential—they're a year-round staple. ($230, tomasmaier.com) 

You can never own too many white tennis sneakers (and, well, let's be honest, they do get scuffed). Grab a new pair for fall at a price point you won't mind replacing in a couple months. ($80, dillards.com)

For the darker days ahead, choose a wallet with a bit more personality, such as this bright option from Louis Vuitton. ($705, louisvuitton.com)

Like the wallet, the yellow dial on this Breitling can add a pop of personality to your transitional wardrobe. The sporty, military-grade fabric strap completes the sharp yet casual look. ($5,255, breitling.com)
Before it's here, it's on the Bloomberg Terminal.
LEARN MORE