Luxury Travel
Tour Chicago's Hotspots with Actress Sophia Bush
From cocktails to camera shops to the coolest neighborhood walks
By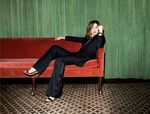 Sophia Bush, who plays Detective Erin Lindsay on NBC's Chicago P.D., splits her time between her native Los Angeles and the Windy City.
"Chicago is such a cool place," says Bush, 34, who spends more than nine months of the year camped out in a downtown apartment she's decorated, salon-style, with her own photographs. Before the fourth season of the show kicks off on Sept. 21, Bush shares her favorite things to do when she's not on-set.

Best Spot to Celebrate
"The Aviary, chef Grant Achatz's bar, is the most incredible cocktail spot. My favorite drink there, the Blueberry, arrives in this porthole-shaped vessel with rye, citrus peel, strawberries, and flower petals. It's really next-level. Then a group of us from the show will pop over to the Soho House and maybe have dinner. It's such a nice, low-key place."
Coolest Neighborhood
"Wicker Park. There are a lot of great vintage and record stores. And some of the best restaurants in the city, like Antique Taco on Milwaukee, which is a great walking street."
Where to Spend a Day Off
"I love to go with friends on architecture boat tours [such as Chicago's First Lady or Wendella]. I've taken all of them! Every trip has a different tour guide, so you have a different experience. I never get tired of going to the Art Institute of Chicago. I just saw an exhibition on David Adjaye, one of my favorite architects."

Chicest Home Design Store
"Rider on Lake Street in the Loop is a mix of vintage furniture and clothing and beautiful stationery. I'm hunting for a good Mies van der Rohe daybed."
Top Camera-Snob Shop
"I collect vintage cameras, and I take photographs everywhere, all day, all the time. Central Camera Company, downtown on South Wabash, has been around since 1899. It's a wonderland in there."

Before it's here, it's on the Bloomberg Terminal.
LEARN MORE