Zimbabwe May Not Be Able to Pay State Workers, Minister Says
By , , and
Wages of state workers consumed 96.8% of revenue in first half

Southern African nation owes about $9.6 billion, minister says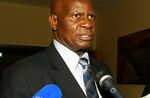 Zimbabwe may not be able to keep paying government workers as their wages consumed 96.8 percent of government revenue in the first half of this year, Finance Minister Patrick Chinamasa said.
"The outlook suggests government may not be able to meet its payroll obligations," he said as he presented a mid-term budget on Thursday. Government has been staggering civil service and armed forces pay days in an effort to meet its obligations.
The southern African nation is experiencing its worst economic crisis since the hyper-inflationary period that peaked in 2008, when inflation soared to 500 billion percent, according to the International Monetary Fund. Now, after it switched to use of the U.S. dollar in 2009, a shortage of currency, deflation and unemployment of about 90 percent have plunged the country back into crisis.
Zimbabwe owes foreign and domestic institutions about $9.6 billion and failed to make a $1.8 billion payment due to lenders in June. Chinamasa said he expects the economy to expand about 1.2 percent this year.
The government is considering cutting 25,000 state jobs, deferring civil service bonuses for 2016 and 2017 and closing some embassies in an effort to save money, The Source reported, citing Chinamasa. The moves could save Zimbabwe at least $335 million annually during the next two years, the Harare-based news website said.