Yuan Intervention Signs Intensify as Offshore Loan Rates Surge
Bloomberg News
PBOC may be trying to crack down on bearish wagers: Mizuho

Offshore exchange rate declines first time this week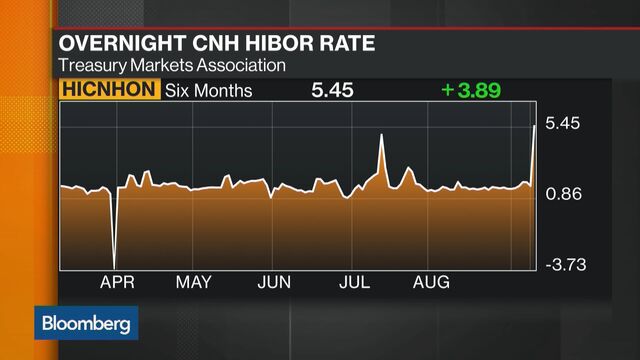 The cost of borrowing yuan in Hong Kong surged to a seven-month high amid speculation China's central bank is intervening to discourage bearish bets on the currency.
QuickTake The People's Currency
The overnight Hong Kong Interbank Offered Rate climbed 3.88 percentage points to 5.45 percent, the most expensive since February, according to Treasury Markets Association data. The one-week rate rose 2.09 percentage points to 4.06 percent.
The People's Bank of China may have tightened liquidity in the offshore yuan market to control declines following speculation that it would allow depreciation now that a Group of 20 summit is over, according to Mizuho Bank Ltd. The monetary authority drove offshore yuan borrowing costs to unprecedented levels in January in an effort to punish bears.
"The authorities may be repeating January's trick -- tighten liquidity and crack down on bearish speculation on the yuan," said Ken Cheung, a foreign-exchange strategist at Mizuho Bank. "Everyone was talking about depreciation after the G20 meeting, and China could be reacting to that."

China's central bank can influence funding costs in Hong Kong by encouraging state-owned banks to hold back from loaning their excess yuan. A surge in yuan Hibor hurts bears in two ways: by increasing the cost to borrow the currency and sell it, and also by prompting lenders that want to avoid paying the higher rates to buy the yuan they need in the spot market instead, bolstering the exchange rate.
The offshore yuan has dropped 0.6 percent versus the dollar since the start of August as Chinese data failed to quell concerns over the nation's economic health and the Federal Reserve indicated it could raise borrowing costs this year. Depreciation bets have resurfaced in the derivatives market, with a three-month measure of expected yuan price swings surging the most since January last month, while a weaker yuan helped exports drop less than expected in August.
While capital outflows have eased from record levels last year, firms and individuals still appear uncomfortable with exposure to China's currency. A Bloomberg gauge of local companies' willingness to convert foreign currencies into yuan is near a record low, while an unprecedented overseas acquisition binge suggests strong demand for exposure to foreign assets. A net $55 billion flowed out of China in July, compared with $49 billion in the previous month, according to Goldman Sachs Group Inc.
The currency's limited reaction to those headwinds spurred speculation that China's central bank was propping up the exchange rate to deflect criticism of its policies during the G20 meeting, and that it would allow depreciation before the yuan's entry into the International Monetary Fund's reserves on Oct. 1. The median estimate of economists is for the onshore yuan to end the year at 6.75 a dollar, down 1.3 percent from 6.6644 on Thursday.
Forward Points
The gap between overnight forwards and the spot rate in Hong Kong -- so-called forward points -- jumped to 20, the highest since February. The increase suggests the yuan's supply was squeezed, according to Zhou Hao, an economist at Commerzbank AG in Singapore. The offshore currency rose to as high as 6.6637 per dollar before weakening 0.02 percent to 6.6725.
"The authorities could be trying to dry up liquidity in the offshore market in order to reduce bearish bets, as the exchange rate approached the sensitive level of 6.7 a dollar earlier," said Banny Lam, head of research at CEB International Investment Ltd. in Hong Kong. "There's still very strong expectation for the yuan to depreciate."
Temporary Increase
Savings of the Chinese currency in Hong Kong have slumped 33 percent in the past year to 667.1 billion yuan in July, according to the Hong Kong Monetary Authority. The market for Dim Sum bonds, or debt issued in the Chinese currency, is inching closer to insignificance, as issuance so far in 2016 shrank to one third of the amount in the same period two years ago.
"Front-end forward points coming off earlier highs suggests the squeeze could be temporary," said Frances Cheung, head of rates strategy for Asia ex-Japan at Societe Generale SA. "The less flush offshore yuan liquidity conditions - as various flows subside - could amplify the movement in front-end rates should there be a sudden need for liquidity."
Watch Next: Yuan Overnight Hibor Highest Since February