What's Next for ITT Tech's Students and Their Half a Billion in Debt?
The for-profit college chain's closure threatens to throw thousands of students off track and saddle taxpayers with their debt.
By and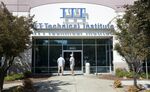 When ITT Technical Institute shut down this week, Tim Noufer was just a quarter away from earning his bachelor's degree.