technology
Samsung Note 7 Users Urged to Turn Them Off Due to Fire Risk
By and
U.S. Consumer Product Safety Commission gave consumer warning

Global aviation authorities warn against use while on planes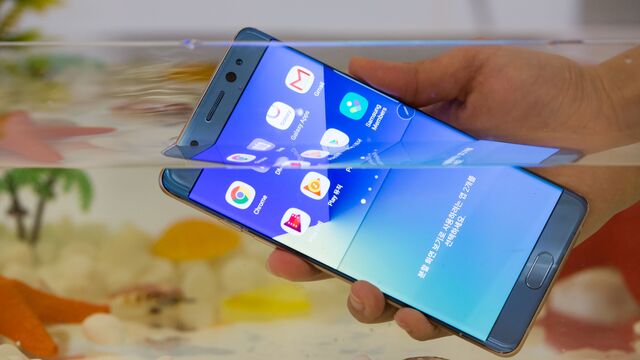 Users of Samsung Electronics Co.'s troubled Note 7 smartphone were urged to immediately turn off and stop charging them by a U.S. safety agency as aviation authorities around the world urged passengers not to use them during flights.
The U.S. Consumer Product Safety Commission said Friday it's in talks with Samsung on an official recall of the devices as soon as possible. About three dozen of the devices, released just three weeks ago, had batteries that caught fire or exploded.
"This consumer warning is based on recent reports involving lithium-ion batteries in certain Note 7 devices that have resulted in fires," the CPSC said in a statement. "These incidents have occurred while charging and during normal use, which has led us to call for consumers to power down their Note 7s."
The troubles come at a difficult time for Samsung. The company rolled out the Note 7 last month to give it a head start on Apple Inc.'s new iPhone, which was unveiled this week. But that advantage has now disappeared. Samsung shares fell 3.9 percent in trading Friday in Korea, the biggest drop since Jan. 4.
Voluntary Recall
The recent introduction of new products by the two leaders of the global smartphone market are critical to their competition, Bloomberg Intelligence analyst John Butler said in an interview.
"Samsung's troubles, and they're meaningful at this point, are a positive development for Apple and its competitive position vis-a-vis Samsung," Butler said.
"We're rolling quickly into the holiday quarter, so Samsung has to move quickly to recall the Note 7 devices with faulty batteries and get replacement units to people who already bought this model," he said.
The Suwon, South Korea-based company has already announced a voluntary, worldwide recall of all 2.5 million of the smartphones it has already shipped, at a cost to the company estimated at as much as $1 billion.
Prohibited Resale
Almost all CPSC recalls are done voluntarily in conjunction with a company and the scope of any action on the Note 7 may be identical to what Samsung has already suggested to consumers. 
But once the agency becomes involved, it triggers additional protections for people. For example, U.S. law prohibits the sale or resale of any recalled item once CPSC acts.
The CPSC action came as aviation regulators in several countries and airlines advised passengers against turning on or charging the devices during flights.
The European Aviation Safety Agency on Friday issued such a warning and cautioned against packing them in checked bags, according to a posting on its website. That followed a non-binding warning issued Thursday by the U.S. Federal Aviation Administration. 
"In light of recent incidents and concerns raised by Samsung about its Galaxy Note 7 devices, the Federal Aviation Administration strongly advises passengers not to turn on or charge these devices on board aircraft and not to stow them in any checked baggage," the agency said late Thursday.
India, Singapore
India's Directorate General of Civil Aviation banned switching on the phones during flights, or placing them in checked bags that aren't carried in the cabin. Singapore Airlines Ltd. has barred travelers from powering up or charging the devices on flights, the company said in an e-mail.
Samsung issued a press release Friday saying "consumer safety and peace of mind are our top priority."
Following the FAA's statement, U.S. carriers were taking a variety of steps. Delta Air Lines Inc. posted a notice on its website telling passengers to comply with the FAA's guidance.
Southwest Airlines Co. will share information on its website and social-media channels to make passengers aware of the FAA recommendations, said Lisa Tiller, a spokeswoman for the Dallas-based carrier. Spirit Airlines Inc. said all passengers will receive a copy of the FAA notice 12 hours prior to flying.
American Airlines Group Inc. and JetBlue Airways Corp. said they are consulting with the FAA on the issue. JetBlue added that it is trying to get more FAA guidance for its employees so they can answer customer questions.
The Airlines for America trade group, which represents most large U.S. carriers, said in an e-mail it is closely monitoring the situation.
Lithium Batteries
The actions are the latest to focus on the risks of lithium-based batteries on aircraft, which have been linked to three accidents on cargo carriers, two of which were fatal. The FAA has logged dozens of more minor incidents in which the batteries caught fire, smoldered or exploded on airline flights.
The United Nations' International Civil Aviation Organization in February voted to ban passenger airlines from carrying bulk shipments of rechargeable lithium-ion batteries, such as those on the Samsung device. The group stopped short of placing restrictions on batteries contained in devices because any fires that occur are much easier to extinguish.
The Air Line Pilots Association, the largest flight-crew union in North America, said the recent incidents underscore the need for greater controls on lithium-battery shipments.
"These batteries can self-ignite, explode, and are unresponsive to halon, the primary fire-extinguishing agent used aboard aircraft," the union said in an e-mail.
— With assistance by Michael Sasso, Mark Gurman, and Mary Schlangenstein
(
Updates with analyst comments starting in fifth paragraph.
)
Before it's here, it's on the Bloomberg Terminal.
LEARN MORE