Turkey's Battle to Ease Bank Funding Drought in Three Charts
By
Drop in deposit costs stalls after July's attempted coup

Bank funding from the central bank climbs to record high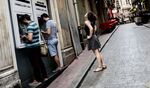 Attempts by Turkish policy makers to alleviate a funding shortage in the country's banking system are so far having limited success.
They've lowered the rate at which lenders can borrow money overnight by 50 basis points to 8.5 percent in two steps since an attempted coup in July, and reduced reserve requirements twice. The evidence so far shows the impact on the real cost of bank financing has been limited, with the rates lenders pay to attract three-month deposits falling only eight basis points in the four weeks through Aug. 19.
The challenge facing policy makers is lenders rely more on deposits than they do on the central bank for financing, and Turks are among the worst savers in the Group of 20 Nations. The ratio of loans to deposits is hovering near a record 124 percent, forcing banks to lure clients with higher interest, which also needs to outpace an inflation rate of around 8 percent. This limits the impact of the central bank's tools.
"There has been a disconnect in the transmission mechanism of the monetary policy," said Ibrahim Aksoy, a strategist at HSBC Asset Management in Istanbul.
Below are three charts that illustrate the constraints on the effectiveness of monetary policy:
1. The weighted average rate paid on deposits of up to three months in maturity, which make up 72 percent of the banking sector's Turkish lira interest-bearing cash, has held at 10.7 percent. This suggests that competition for savings has intensified and means lenders need to pass on the extra costs to borrowers in order to preserve profits. The latest available deposit data from the central bank runs to Aug. 19 and has yet to reflect the most recent reductions to reserve requirements and the overnight rate.

2. To make up for this, lenders are increasingly relying on cheaper central bank liquidity, which now accounts for 4.7 percent of total needs, the highest in at least five years, representing a more than four-fold increase since 2013. The amount borrowed from the monetary authority climbed to a record 118 billion liras ($40 billion) last week, 42 percent of it via overnight lending.

3. All this also explains why banks are reluctant to fund one another in the overnight market at anything less than the more expensive band of the central bank's interest-rate corridor. While historically, the rate at which banks lend money fluctuated below the official level, it has tracked the central bank benchmark since 2015 even as policy makers cut rates.

The Borsa Istanbul Banks Index climbed 0.9 percent as of 4:29 p.m. in Istanbul, set for a two-month high on a closing basis.