Trump Defends Iraq War Claim Under Fresh Clinton Criticism
By and
Support lacking for claim he opposed war from beginning

Clinton says she has taken responsibility, Trump hasn't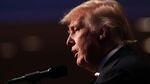 Republican presidential nominee Donald Trump said Thursday he opposed the Iraq war "from the beginning," an unsubstantiated claim that is drawing renewed attacks from Democrats.
"I opposed going in, despite the media saying, 'Oh, no,'" Trump said in Cleveland a day after he and Democrat Hillary Clinton took turns in a televised forum on military issues to argue their cases for becoming the next U.S. commander-in-chief. "I was opposed to the war from the beginning."
"I see the lies last night: Donald Trump was in favor of the war in Iraq," Trump said before turning to his remarks about education policy. "That's why I had to do this, because the media is so dishonest."
Clinton said Wednesday she has "taken responsibility" for her decision to vote for the 2003 Iraq invasion when she was a U.S. senator. "My opponent was for the war in Iraq. You can go back and look at the record. He refused to take responsibility for his support. That is a judgment issue."
Old Interviews
When radio host Howard Stern asked Trump in September 2002 whether he supported war with Iraq, Trump said, "Yeah, I guess so."
In an interview with Neil Cavuto on Fox News in January 2003, Trump said of President George W. Bush, "Well, he has either got to do something or not do something, perhaps, because perhaps shouldn't be doing it yet and perhaps we should be waiting for the United Nations, you know."
"I think the economy is a much bigger problem as far as the president is concerned," he said.
In a story published in Esquire magazine in 2004, after the invasion, Trump said, "Look at the war in Iraq and the mess that we're in. I would never have handled it that way."
PolitiFact, a nonpartisan fact-checking website, rated Trump's claim about always opposing the war as "false" based on those interviews. Another site, FactCheck.org, rated the claim as having "no evidence."
'Big Mistake'
Trump said he had "no access" to intelligence briefings, unlike Clinton as senator. "In Iraq, my judgement was right and hers -- with all of this information and all of this great intelligence information -- was wrong, along with a lot of other people, in all fairness. Big mistake."
Trump suggested his Cavuto interview, in which he said the economy was a bigger problem than Iraq, constituted opposition to the war. "This was before the war started by a very short distance," he said.
His remarks came as he visited a charter school in the must-win state of Ohio, seeking to close his polling gap with Clinton. In an Ohio poll average compiled by RealClearPolitics, Clinton leads Trump by 3.3 percentage points in a two-way race, slightly larger than her national lead.
Iraq Politics
The U.S. invasion and occupation of Iraq has long been a lightning rod in American politics. President Barack Obama used Clinton's vote to overtake her in the 2008 Democratic primary, and Senator Bernie Sanders used the issue against her in this year's race.
For a decade, a majority of Americans have said it was a mistake to send troops into Iraq, according to Gallup.
Clinton's campaign sent a fundraising e-mail about Trump's Iraq comments Thursday afternoon, blaming NBC News' Matt Lauer for not challenging Trump on his claim at the forum.
"Trump has revitalized an American isolationist movement that's been dormant for decades," said John Noonan, who was a national-security adviser to Republicans Jeb Bush and Mitt Romney when they were presidential candidates. "What's incredible is that he's running on Obama's 2012 foreign policy: build stuff here at home, let the Iraqis figure out Iraq."
— With assistance by Terrence Dopp
Before it's here, it's on the Bloomberg Terminal.
LEARN MORE