TiVo Shares May Have Plunged Due to Ticker Symbol Confusion
By and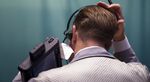 A ticker change this morning might have been the reason for a nearly 8 percent drop in shares of TiVo Corp. 
Early this morning, Rovi Corp. announced the closing of its deal to buy the company, which merged the two together under TIVO while ROVI was delisted. Some analysts were a bit puzzled by the drop, but Robert Stone of Cowen & Co. believes it was just some confusion about the ticker change.
"I had a number of inquiries from clients this morning, and one of them said that they saw an incorrect price change [shares up more than 80 percent] on their trading platform," Stone said in an interview. "Another client said they were having back office issues on this ticker change. Otherwise, there has been no fundamental change. Everything about the plan has been known since about April."
He explained that "it's not just changing from an old ticker to a new ticker, but merging two existing ones when there was a significant spread between the two. Just changing to a new ticker might not have resulted in this type of erroneous price action. "

According to data compiled by Bloomberg, analysts currently have three "buy" ratings and one "hold" rating on the stock, with no one recommending that investors sell. The average price target is $31, nearly 40 percent higher than the shares' current market value.