Playboy Can Block Links to Celebrity Pictures, EU Court Says
by
Dutch publisher sought to stop links to copyrighted photoshoot

Ruling could change the way hyperlinks are used by companies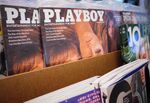 Playboy's Dutch publisher can stop a news and entertainment website from posting links to its images without permission, a top European Union court said in a ruling that could reverberate across the internet.
The European Court of Justice in Luxembourg said GeenStijl, owned by GS Media, broke copyright laws when it published links to pictures of TV personality Britt Dekker without the permission of Sanoma Oyj's Dutch unit, which runs Playboy in the Netherlands.
Thursday's ruling, which guides a Dutch court making a final decision in the dispute, says the website may fall foul of copyright rules because the links were posted for profit in the full knowledge that the photos were published online without consent.
"An eye on profit, that's something dirty, according to the European clowns," GeenStijl said in a statement on its website. "The consequence is that from now on, you always run the risk of being sued, just for placing a hyperlink."
For more on the European Union, sign up to our daily Brexit Bulletin newsletter.
Stricter Rules
The ruling boosts publishers and other copyright owners fighting internet sites that link to or republish their content without permission. It could also force search engines such as Alphabet Inc.'s Google to tread more carefully when they provide links to other outlets.
EU judges have aggressively set policies that alter how business is done on the internet. The same court two years ago sent shock-waves around the world when it granted citizens a so-called right to be forgotten, forcing Google to remove links to outdated or inaccurate personal information on request.
"It is undisputed that GS Media provided the hyperlinks to the files containing the photos for profit and that Sanoma had not authorized the publication of those photos on the internet," the EU court said.
For those sharing hyperlinks in a commercial context, "there will now be an expectation to carry out checks to ensure that the content has not been illegally published," said Tom Collins, Stevens & Bolton LLP. "This will inevitably raise some practical difficulties for some online businesses."
'Struggle for Survival'
GeenStijl said "the struggle for the survival of the free internet, including hyperlinks, has received a heavy blow." When commercial media companies, such as GeenStijl "can no longer link freely and fearlessly, it becomes difficult to report on news based on leaked information."
GeenStijl provides "news, scandalous revelations and investigative journalism with lighthearted items and wacky nonsense" and is one of the 10 most visited news websites in the Netherlands, the EU court said, citing the website's own description.
Thursday's decision comes days before the EU regulators are poised to unveil tough new rules governing online copyright.
"While the European Commission is set to unveil its copyright package next week, this case shows that the freedom to hyperlink is under attack," said Jakob Kucharczyk, director of CCIA Europe, a computer and communications trade group.
"We remain convinced that hyperlinks are better understood as mere road signs on our internet highways," he said. "They should have nothing to do with copyright law. The Court missed the opportunity to clarify that once and for all."
Sanoma didn't immediately respond to a request for comment.
The case is: C-160/15, GS Media BV v. Sanoma Media Netherlands BV and Playboy Enterprises International Inc. and Britt Geertruida Dekker.
Before it's here, it's on the Bloomberg Terminal.
LEARN MORE