China Seen Firing a Warning Shot at Bears in Yuan Defense
Bloomberg News
Hong Kong yuan borrowing rate surges to seven-month high

Central bank signaling it won't allow one-way bets: DBS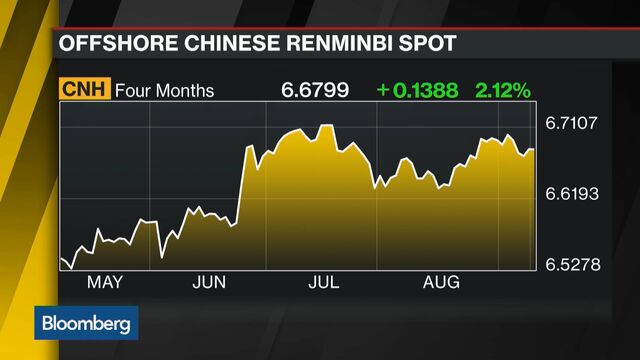 China's central bank is making its tolerance levels clear to yuan speculators.
Suspected intervention by the People's Bank of China drove the cost of borrowing the currency offshore to a seven-month high on Thursday, making it more expensive to short the yuan. The authorities will prevent the exchange rate from weakening beyond 6.7 per dollar anytime soon, according to Svenska Handelsbanken AB, the yuan's top forecaster. A breach of that level may trigger sharp moves and embolden bears, said Scotiabank. The onshore currency was trading at 6.6779 Friday.
"There's a strong expectation for the yuan to decline, so if the exchange rate breaks a round-number level like 6.7, sentiment could take a hard hit," said Tommy Ong, managing director for treasury and markets at DBS Hong Kong Ltd. "The Hong Kong borrowing rate jumped probably because the PBOC drained liquidity from the offshore market. This can be taken as a hint that it won't allow any one-way bets."
China's foreign-exchange gyrations reflect the challenge for policy makers: They need to allow the currency to weaken to boost exports and help an economy growing at the slowest pace in more than two decades. But the decline has to be managed because unfettered drops would spur capital outflows, draw criticism from trading partners and result in a loss of face before the yuan enters the International Monetary Fund's reserves basket on Oct. 1.

"The PBOC would love to weaken the yuan much more, but it will make sure the slope is not steep," said Bjarke Roed-Frederiksen, a Copenhagen-based economist at Handelsbanken, the most accurate yuan forecaster tracked by Bloomberg over the last four quarters. "The currency will more likely weaken beyond 6.7 after Oct. 1 as the authorities control the pace of declines. They are still fully in control -- they can move it where they want and keep it where they want."
Talk that the PBOC has drawn a line in the sand at 6.7 emerged in July, when it set a series of stronger reference rates after the onshore currency fell past that level for the first time since 2010. That speculation was reignited on Tuesday, when both the onshore and offshore yuan strengthened quickly after approaching that mark in early trade. The PBOC may also be seeking to quash speculation that it would allow depreciation now that a Group of 20 summit is over, according to Mizuho Bank Ltd.
Hurting Bears
A surge in offshore yuan interbank rates hurts bears in two ways: by increasing costs for speculators who borrow and sell the currency, and by encouraging banks to buy yuan in the spot market instead of borrowing it from other lenders. The overnight Hong Kong Interbank Offered Rate climbed 3.88 percentage points to 5.45 percent on Thursday, the most expensive since February, according to Treasury Markets Association data. The rate surged to a record 66.8 percent in January, prompting turmoil in local and global financial markets. The one-day rate fell to 4.71 percent on Friday, while the one-week was little changed at 4.12 percent.
Thursday's spike may only be temporary because it could have resulted from Hong Kong banks borrowing yuan offshore to meet client demand for big-ticket investments in China, according to Yang Jiewen, head of the yuan business division at Bank of China (Hong Kong) Ltd. Banks borrowed because they may not have had enough time to recall funds held on the mainland or acquire adequate liquidity in the market.
Round Numbers
Round numbers have traditionally been important for the yuan. When the onshore exchange rate fell beyond 6.4 a dollar in December, the market responded by pushing the currency to its biggest monthly plunge since a shock devaluation in August last year. In late June 2016, a slip past 6.6 preceded a 0.8 percent drop in four weeks. The onshore yuan fell 0.2 percent on Friday, while the currency traded in Hong Kong weakened 0.14 percent.
"If the PBOC lets 6.7 go, the market will take it as a clear signal that it's ready for further depreciation," said Gao Qi, a Singapore-based foreign-exchange strategist at Scotiabank. "This will all of a sudden wake up the bears, who will build bets against the yuan quickly and push it to 6.8. China doesn't want to see this now, it will want to wait at least until after the IMF entry is out of the way."
President Xi Jinping's efforts to promote the yuan's international usage culminated last year when the IMF added it to its benchmark basket of reserve currencies, making it part of the Special Drawing Rights, or SDR, effective Oct. 1, 2016.
Lessons Learnt
The PBOC has learnt its lesson after sparking market turmoil in January and will smoothen any depreciation, said Nizam Idris, head of foreign-exchange and fixed-income strategy at Macquarie Bank Ltd. in Singapore. A move to 6.7 wouldn't cause panic dollar buying, said Tim Condon, head of Asian research at ING Groep NV in Singapore, the top forecaster for Asian emerging-market currencies.
Condon predicts the onshore yuan will end the year at 6.69 per dollar, while Roed-Frederiksen has a forecast of 6.8. The median estimate in a Bloomberg survey is for 6.75. China's foreign-exchange reserves slipped in August to the lowest level since 2011, a report showed this week. Declines in the stockpile aren't necessarily negative, and it's natural for investors to look outside when the economy is in a downturn and there's a lot of overcapacity, Fan Gang, head of the National Institute of Economic Research, said in a Bloomberg Television interview.
"Lines in sand rarely hold forever," said Sue Trinh, Royal Bank of Canada's Hong Kong-based head of Asian foreign-exchange strategy. "Though 6.7 looks like the level for now, it is just a number. Whether China intervenes doesn't change the fact that the exchange rate is overvalued and that there is still significant capital outflow pressures."
— With assistance by Tian Chen, Molly Wei, and Emma Dai
Before it's here, it's on the Bloomberg Terminal.
LEARN MORE