Paschi Ousts CEO as Bank Revamp Is Mired by Investor Doubt
By
Italian Treasury says bank's situation is under control

Viola's replacement as CEO seen named within next few days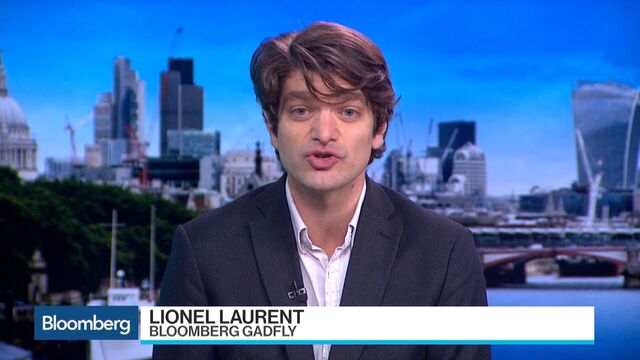 Banca Monte dei Paschi di Siena SpA ousted Chief Executive Officer Fabrizio Viola as investors sought a change in leadership to back the Italian lender's turnaround plan and avoid a bailout.
The board aims to identify the new CEO in the short term and Viola, 58, will stay in the position until that time, according to a statement from the Siena-based lender after markets closed Thursday. Marco Morelli, head of Bank of America Corp.'s Italian operations is the frontrunner to be named CEO, daily Il Sole 24 Ore reported, without saying where it got the information, adding that a board meeting to name Viola's successor will be called by Sunday.
Burdened by mounting bad loans and losses on derivatives bets gone wrong under the previous management, Viola was forced to take state funds and tapped shareholders twice in two years. Those efforts didn't pay off, as the bank still posted the biggest capital gap in European stress tests, while the shares have tumbled about 95 percent during his four-year tenure. Monte Paschi plans to sell stock again to bolster its balance sheet over the coming months, following the disposal of most of its soured-loan portfolio.
"Viola tried to solve Monte Paschi's problems at a time when the problems were probably already too big to be solved on a stand-alone basis," said Jacopo Ceccatelli, chief executive officer of Marzotto SIM SpA, a Milan-based broker-dealer. "After four years, having the same person while seeking money again would be a problem, so a change could help to sell a new equity story to investors."
Last month, Chairman Massimo Tononi had denied Italian press reports that Viola would be replaced.
Volatile Shares
Monte Paschi's shares are volatile in Milan trading. The bank fell as much 1.8 percent after gaining 1.3 percent at the opening; it's little changed at 24.4 cents as of 9:30 a.m. The bank has lost about 80 percent this year, reducing its market value to about 715 million euros ($800 million).

The sudden departure "could mean that still there is no agreement on the final restructuring plan," said Stefano Girola, who helps manage about 40 billion euros at Syz Asset Management in Lugano, Switzerland. "That said, a new CEO with a clear, stronger mandate to solve the emergency, like we've seen at UniCredit, may speed up the whole process."
Under Control
Monte Paschi's situation is under control and a new CEO will be appointed in the next few days, an Italian Treasury official said after Thursday's announcement. The Treasury owns 4 percent of Paschi after it converted debt sold by the bank to the government into equity.
The fate of Monte Paschi has contributed to deepening pessimism about the European financial industry: banks are the worst performing group in the Stoxx Europe 600 Index, dropping 19 percent this year. Doubts over the health of Italy's weakest lenders have also helped drag down the shares of the nation's biggest bank, UniCredit SpA, which hired a new CEO two months ago to speed its own restructuring plan.
To read about Paschi's struggle with stress tests, click here.
Viola's leadership also attracted scrutiny because of how the bank booked derivatives used by the previous management to hide losses. After the transactions came to light in 2013 and the bank restated accounts, it had to amend the results again in 2015 at the request of market regulator Consob.
The latest effort to restore the ailing lender to profitability will see Monte Paschi cleanse its balance sheet and bolster capital sufficiently for the company to grow again. That would also make it more attractive to a potential buyer.
The bank in July rejected a proposal from UBS Group AG and Corrado Passera, Italy's former economic development minister, that included a capital increase of between 2.5 billion euros ($2.8 billion) and 3 billion euros, guaranteed by UBS, and the voluntary conversion of about 1 billion euros of subordinated bonds.
Debt Conversion
The bank is now studying the size of a probable voluntary debt-for-equity offer to cut back a 5 billion-euro stock sale envisaged in the bank's current turnaround plan, according to people with knowledge of the discussions. The troubled Italian lender may propose that bondholders have the option of converting as much as 90 percent of the 5 billion euros of outstanding subordinated notes, said the people, who asked not to be identified because the discussions are private. The restructuring is viewed as crucial to stabilize the bank and Italy's financial system, the people said.
"At this stage we believe that this managerial reshuffle hasn't the right timing," said Fabrizio Bernardi, a Milan-based analyst at Fidentiis Equities. "It looks like a scapegoat is needed to justify the likely failure of the rights issue as it was presented."
Success depends in part on winning backing for a new fund that will buy the bank's bad loans. After that, Monte Paschi needs to find investors ready to provide new equity for five times its market value.
"What's happened clearly suggests the difficulties of managing the current phase of the bank's restructuring," Luca Comi, an analyst at ICBPI wrote in a note Friday.