Obama Says Trump's 'Wacky Ideas' Show He's Not Qualified for Job
By
Trump shows he's not ready 'every time he speaks,' Obama says

GOP nominee said Wednesday that Putin better leader than Obama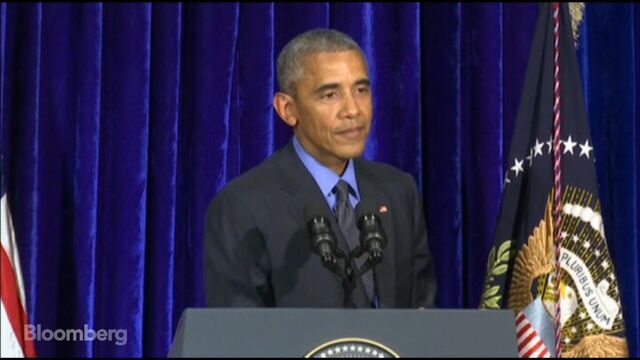 U.S. President Barack Obama said Donald Trump isn't fit to serve as president after the Republican candidate criticized his leadership and said generals had been "reduced to rubble" during his administration.
"I don't think the guy's qualified to be president," Obama said Thursday at a briefing after a summit with Southeast Asian leaders in Vientiane, Laos. "Every time he speaks, that opinion is confirmed."

Obama blasted Trump's "contradictory or ill-informed or outright wacky ideas" and called his behavior "outrageous." He said he was confident that if people "just listen to what he says" and "look at his track record -- or lack thereof -- they'll make the right decision" in November's election.
Obama also laughed at Trump's suggestion he had been humiliated by the Chinese with a flap over the arrival ceremony when he landed in Hangzhou over the weekend for the G-20 summit.
Trump also said Wednesday that Russian President Vladimir Putin had been a more effective leader than Obama.
'Strong Control'
"The man has very strong control over a country," Trump said during a town hall with NBC News. "Now it's a very different system and I don't happen to like the system, but certainly in that system, he's been a leader. Far more than our president has been a leader."
Trump predicted that if elected he would "have a very, very good relationship with Putin."
Trump has come under criticism for his praise of Putin in the past. His former campaign chairman, Paul Manafort, resigned amid reports detailing his role advising Viktor Yanukovych, the Putin-backed former leader of Ukraine.
Separately, U.S. officials have blamed Russian-government backed hackers for breaching the Democratic National Committee's e-mail system. Those messages revealed some party officials favored Clinton in the primary election, and led to the resignation of Chairwoman Debbie Wasserman Schultz and other top DNC staffers.
Hacking Denial
In an interview last week with Bloomberg News, Putin called the hack a public service while denying Russian responsibility.
"There's no need to distract the public's attention from the essence of the problem by raising some minor issues connected with the search for who did it," Putin said. "But I want to tell you again, I don't know anything about it, and on a state level Russia has never done this."
Obama said his week of meetings with leaders from across Asia had demonstrated that the job of president was "serious business."
"You have to know what you're talking about," Obama said. "You actually have to have done your homework."
Trump said he could tell from the "body language" of intelligence officials who have delivered classified briefings to him that they were "not happy" that Obama had decided against acting on "what they were recommending."
"What I did learn is that our leadership, Barack Obama, did not follow what our experts and our truly -- when they call it intelligence, it's there for a reason -- what our experts said to do," Trump said in the forum hosted by NBC News.
Polls Narrow
Both Trump and his Democratic challenger, Hillary Clinton, became eligible for and have received security briefings following their nomination.
Trump has narrowed Clinton's lead in recent days. The former secretary of state now holds a 4 point advantage, according to an average of polls by RealClearPolitics. That's down three percentage points over the past month.
In an interview with CNN that aired last weekend, Obama said Trump has succeeded in appealing to some "folks who felt left out" and are concerned about the economy.
"There's a long tradition in the United States of inclusion, immigration diversity, but also people -- once they're included in what they consider to be the real America -- worrying about outsiders contaminating, polluting, messing up a good thing," Obama said. "That's not new. That dates back to you know, the beginning of this country."
Before it's here, it's on the Bloomberg Terminal.
LEARN MORE