Obama Brushes Off Philippine President's Attack
By
Obama speaks at end of Asean summit in Laos after Duterte chat

Duterte faces criticism for his deadly war on illegal drugs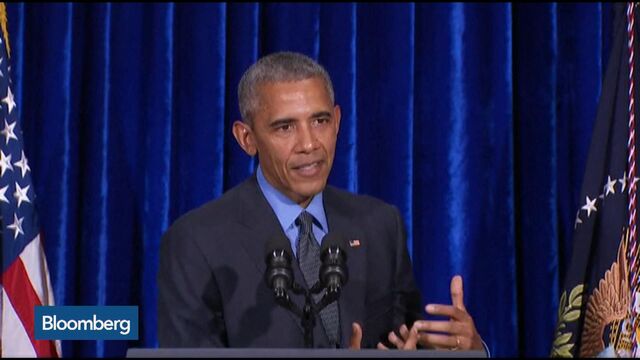 U.S. President Barack Obama brushed off an expletive-laden attack by Philippine President Rodrigo Duterte, saying he didn't take it personally and it seemed to be consistent with how the Southeast Asian leader talked generally.
"It seems to be just a habit, a way of speaking for him," Obama told reporters Thursday at the conclusion of the Association of Southeast Asian Nations summit in Vientiane, Laos. He shook hands with Duterte the previous evening but "it was not a long interaction."
Tensions stemming from a public outburst by Duterte before the summit overshadowed a gathering where Obama sought to focus on his military and economic rebalance to Asia and give reassurances on the Trans-Pacific Partnership trade pact, which faces a difficult ratification process in Congress.
Obama canceled a planned meeting with Duterte after the Philippine president made his comments. Duterte had said he'd potentially swear at and challenge his U.S. counterpart if Obama questioned him over his violent war against illegal drugs that has seen more than 2,400 suspects killed since the Philippine leader came to power.
After Obama pulled the plug on their meeting, Duterte expressed regret for his comments.
Trading Partners
Duterte has been defiant toward international criticism of his anti-drug campaign, saying drugs are a pandemic and his crackdown a matter of national security. He's lashed out at statements from the United Nations and the U.S., responding to comments from U.S. Ambassador Philip Goldberg by calling him a homosexual. That prompted Washington to summon officials from the Philippine Embassy to complain.
The U.S. is the Philippines' second-largest trade partner after China. Exports and imports between the two countries have increased 23 percent since 2010 to reach $18 billion last year.
Obama has made enhancing relationships with Southeast Asian countries including the Philippines a priority during his nearly eight years in office. The U.S. is a military ally of the Philippines and has supported it amid tensions with China over the disputed South China Sea.
The U.S. leader said Duterte's remarks had no impact on broader ties with the Philippines.
While the U.S. wanted to partner with the Philippines on thwarting drug traffickers it also would want "to make sure the partnership we have is consistent with international norms and rule of law," Obama said. "So we're not going to back off."
— With assistance by David Roman
Before it's here, it's on the Bloomberg Terminal.
LEARN MORE