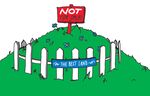 The pace of U.S. home construction hasn't picked up much from a year ago. One reason, says Capital Economics property economist Matthew Pointon, is a shortage of land—not that enough land isn't available, but rather that builders are having a tough time finding prime land at prices they're willing to pay.
Residential starts increased 2.1 percent in July, from the prior month, for an annualized rate of 1.2 million. A year ago, starts were at a 1.1 million annualized rate. A survey by the National Association of Home Builders (NAHB) in May found that 64 percent of homebuilders reported the supply of lots in their markets was low or very low—the highest percentage of reported lot shortages since the data were first collected in 1997.
"The focus of homebuilders has been on the multifamily sector and more expensive single-family homes," Pointon says. "By definition, more expensive single-family homes require more premium plots of land, which tend to be harder to come by."
Low interest rates could also be affecting landowners' willingness to sell. Some may be holding on to their property because they have to put their assets somewhere, and there's not much else out there to make a return, Pointon says. Local developers in Austin and Seattle say they can't think of a better time to sell, because their real estate markets are overheating. Yet some landowners there aren't selling, because they expect even better prices down the road.

"If you're a land seller, you can probably get an all-time-high price for your land today," says John Burns, chief executive officer of John Burns Real Estate Consulting in Irvine, Calif. National finished lot values rose 2 percent year-over-year as of June, Burns's company found. A finished lot includes access to utilities, compliance with all laws, and all the necessary paperwork done. Values rose significantly more in markets such as Seattle (11 percent), the San Francisco Bay Area (6 percent), and Denver (7 percent). That matches the NAHB survey, which found that 39 percent of homebuilders in the West characterized lot supply as "very low," far more than those in other regions.
"There's a guy right now. I brought him an amazing offer on his property, and he thinks it's going to be worth more next year," says Joe Coakley, a manager at Coakley Development Group in Kirkland, Wash. But when asked if he could put a Bloomberg reporter in touch with the landowner, he refuses: "I don't want to publish his name out there for the world to see, because then I get 15 brokers calling this guy and pushing me out of the way."
This shortage doesn't affect all the marketable land. "There's plenty of land in the country, but it's all in outlying areas far from the job centers. So the demand to buy homes in those outlying areas is lower than usual right now," Burns says. "And the costs to build have risen." Developers point to new environmental regulations, understaffed local government offices, and the painful process of obtaining building permits for raw land.
"It's the biggest headache you can imagine," Austin real estate investor Jerred Morris says of the permit process. "It takes a tremendous amount of time and basically ingenuity to know how to weave your way through the offices and get a permit and get things done."
Pointon of Capital Economics says that to boost housing starts, homebuilders are going to need to increase the price they are willing to offer for desirable land. "To do that, they're going to have to put up the price of the homes they sell or take a hit to their profits," he says. "And to do that, you have to pull through higher home prices onto consumers, which they may be able to do as earnings rise." He expects to see the pace of housing starts accelerate in the next few months as that adjustment starts to happen.
The bottom line: In the West and on the West Coast, builders are finding it more difficult to buy land at a reasonable price.
Before it's here, it's on the Bloomberg Terminal.
LEARN MORE