No Man's Land for Greek Bonds as Tsipras Vacillates on Reforms
by and
Greek bonds, stocks didn't gain after latest bailout review

Uncertainty persists as another round of debt talks looms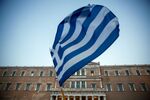 As the latest season of the Greek drama premiers this week, investors are steering clear of the country's bonds and stocks.
QuickTake Greece's Financial Odyssey
Greek government bonds have delivered the worst returns of all European sovereigns tracked by Bloomberg's World Bond Indexes in the past three months, even after Prime Minister Alexis Tsipras managed to secure an accord with creditors for the disbursement of emergency loans in June. The Athens Stock Exchange trails only Nigeria and Venezuela in the worst-performing primary equity indices tracked by Bloomberg in the period.
Greek bonds, excluded from the European Central Bank President Mario Draghi's quantitative easing program, have been been stuck at the bottom of the wave that's lifted debt markets across the euro area. At about 8.2 percent, Greece's borrowing cost for 10 years is more than double Portugal's 3 percent and compares with negative yields for Germany and the Netherlands. Cyprus, the other junk-rated euro country not eligible for the ECB's asset-purchase program, borrows at less than half Greece's rate.
"Greek bonds have been in no-man's land since June," said Patrick Esteruelas, head of research at Emso Asset Management, which oversees $3.2 billion. "As long as people feel that the government is going to move extremely slowly at best, or backslide at worst, they will have doubts about the solidity of its bailout backstop."

Euro-area finance ministers meeting in Bratislava on Friday will probably issue the usual warnings and recommendations for Greece to speed up the pace of economic overhauls required for a payment still pending from the first review of its latest economic adjustment program. A day earlier, the Governing Council of the ECB meeting in Frankfurt will almost certainly keep Greek government bonds excluded from its quantitative easing program, pending debt relief measures planned for later this year.
"The review has been completed, but Athens is already behind with the 15 measures related to the payment of the next sub-tranche." said Wolfango Piccoli, a London-based analyst at Teneo Intel. "Meanwhile, the prospects for Greece's QE participation and debt-relief – two positive catalysts – look more and more remote with the passing of the time."
Familiar Themes
Stalled bailout reviews, delayed debt-relief decisions, and acrimony between successive governments and auditors representing creditor institutions are all too familiar themes in the seven-year-long crisis that has wiped off about a quarter of the Greek economy.
Along the way, those who trusted their money on false dawns saw their investment wiped out, most recently when Greek banks sought a capital injection for the third time. This bitter past, including Tsipras's decision to hold a referendum in 2015 that almost pushed the country out of the euro, is one of the reasons investors are sitting it out. Trading volumes for Greek bonds are a shadow of their pre-crisis levels, with the market practically dried up, central bank data show.
"Things are beginning to bubble for trouble in Athens again," said Gabriel Sterne, head of macro research at Oxford Economics Ltd. in London. "The funds are waiting to see when it'll go off track, and in the meantime clip the coupons. Eight percent is probably around right for that."
Uncertainty about the government's ability to deliver on its commitments for structural reforms, and persistently high borrowing costs for the sovereign and Greek companies weigh on an economy already asphyxiated by the harshest austerity program in history. 
New Administration?
"The issue of achieving a sustainable economic recovery remains largely unresolved – neither the government nor the creditors seem to be much interested in looking beyond anything related to the bailout conditions," Piccoli said.
As long as yields remain that high, Greece's target of tapping bond markets next year, before exiting its bailout in 2018, will remain out of reach. 
"Eight percent in current markets is spectacularly high; it's up there with African commodity exporters and their sovereigns," Sterne said.
For Emso's Esteruelas, Greece's potential inclusion in ECB's asset purchase program, following debt-relief measures could provide "a technical backstop" for Greek bonds.
In the longer term, however, "I have a distinct feeling that Greece is not going to get bid until the current administration is seen closer to the exit door," he said.
Before it's here, it's on the Bloomberg Terminal.
LEARN MORE