Monte Paschi CEO Viola Agrees to Step Down From Italian Bank
by and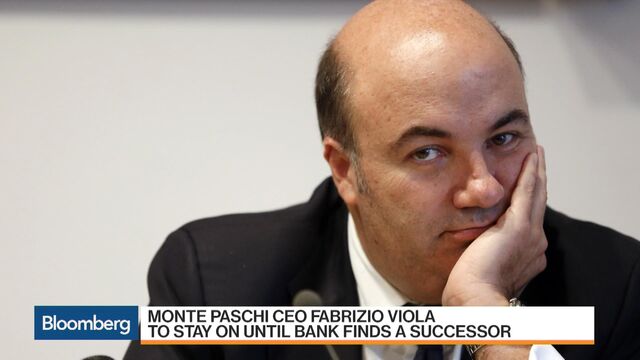 Banca Monte dei Paschi di Siena SpA Chief Executive Officer Fabrizio Viola agreed to step down from the Italian lender, leaving the bank in the midst of a plan to bolster the balance sheet and attract new investors to avoid a bailout.
Viola, 58, will stay in the position until the Siena-based bank finds a successor, according to a statement from the lender. "The board has initiated the CEO succession process with the aim to identify the new CEO in the short term," the bank said.
Appointed in 2012 to turn around Monte Paschi, the executive has struggled to return the lender to profit as bad loans mounted. Twice bailed out, over the coming months Monte Paschi plans to tap investors for the third time in two years to replenish capital following the disposal of most of its soured-loan portfolio.
The sudden departure "could mean that still there is no agreement on the final restructuring plan," said Stefano Girola, who helps manage about 40 billion euros ($45 billion) at Syz Asset Management in Lugano, Switzerland. "That said, a new CEO with a clear, stronger mandate to solve the emergency, like we've seen at UniCredit, may speed up the whole process."
Monte Paschi's plan follows a share selloff that wiped almost 80 percent off the bank's market value this year as concerns mounted about its capital strength. The reorganization has raised concerns among investors given the high execution risks linked to the complex deal. Success depends in part on winning backing for a new fund that will buy the bank's bad loans; then, Monte Paschi needs to find investors ready to provide new equity for five times its market value.
"The bank may have requested Viola to resign to give more credibility to the restructuring plan," said Fabrizio Bernardi, a Milan-based analyst at Fidentiis Equities. "Viola has already tapped investors twice, so a new face may lure more investors."
Before it's here, it's on the Bloomberg Terminal.
LEARN MORE