May Overhauls U.K. Schools in First Domestic Policy Step
By
Prime minister announces first new grammar schools in decades

Selective schools will be forced to take more poor children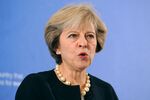 Theresa May will announce the first expansion of selective state schooling in Britain in more than three decades as she seeks to please activists in her Conservative Party.
The prime minister will use a speech in London on Friday to signal the creation of new "grammar schools," which select children at the age of 10 or 11 on the basis of tests. Such schools were widespread in the 1960s, but most were stopped from picking the cleverest pupils by Conservative and Labour governments in the following decades because of the negative effects on the children who failed to qualify.
May's predecessor David Cameron rejected proposals for new grammar schools, which are popular with some Tory lawmakers but opposed by others. Evidence shows the schools tend to disproportionately help wealthy children who can afford extra tuition to get through the tests while harming opportunities for their poorer contemporaries.
In an effort to offset these problems, May will say she's considering whether new grammar schools should be required to take a quota of poor children, or to establish and run parallel non-selective schools. She'll also require universities that want to increase tuition fees to sponsor under-performing schools.
"For too long we have tolerated a system that contains an arbitrary rule preventing selective schools from being established, sacrificing children's potential because of dogma and ideology," May will say, according to her office. "The truth is that we already have selection in our school system -- and it's selection by house price, selection by wealth. That is simply unfair."
Education Secretary Justine Greening said the proposals reflect a commitment to expand good school places made by the Conservatives in last year's general election. She will announce further details of the plans in the House of Commons on Monday.
"These reforms are about opening up the system and challenging the system so there's more choice for parents," Greening told BBC Radio 4's 'Today' show. "We want to see a 21st century approach in grammar schools, at the moment they are stuck in the past from a policy perspective."