Japan's Economy in Second Quarter Grew More Than Thought
By
Upward revision of GDP to 0.7% aided by capital spending

Still, analysts say economic expansion lacks strength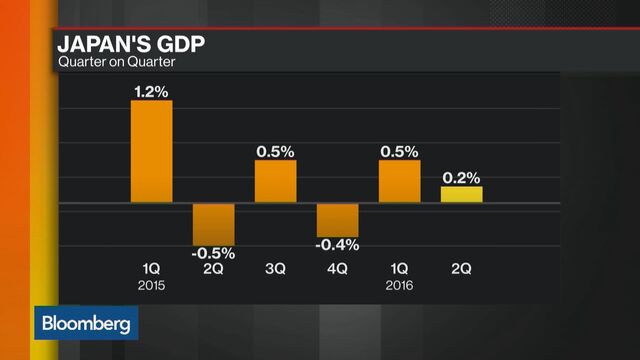 Japan's economy expanded more than the government initially reported for the second quarter, helped by an upward revision in capital spending, private inventories and public investment.
Key Points
Gross domestic product expanded by an annualized 0.7 percent in the three months ended June 30, more than the initial reading of 0.2 percent, according to revised data from the Cabinet Office released on Thursday.
The median estimate of economists was for 0.2 percent growth.
Measured quarter on quarter, GDP rose 0.2 percent, compared with a preliminary figure of 0 percent (estimate 0 percent).

Business spending declined 0.1 percent in the second quarter from the previous three months, less than a preliminary 0.4 percent drop (estimate -0.4 percent).
Private inventories contributed 0.1 percentage points to GDP, compared with a preliminary reading of 0. They contributed the most to the GDP revision. All four components of inventories were revised upward, with materials and supplies contributing the most.
Public investment's contribution was revised to 2.6 percent from an initial reading of 2.3.

Big Picture
The report comes before this month's closely watched Bank of Japan meeting, at which the board will conduct a comprehensive review of monetary policy and decide whether it should expand easing. The upward growth revision is good news for Prime Minister Shinzo Abe and BOJ Governor Haruhiko Kuroda as they seek to revive the economy and spur inflation. While a 28 trillion yen ($271 billion) economic stimulus package approved by the Cabinet may help drive domestic demand, the yen's resurgence this year is hurting exporters and corporate profits, posing risks to the economy.

Economist Takeaways
"My first impression is that it's not as bad as expected after capital investment, which had been expected to go down further, was revised up," Atsushi Takeda, an economist at Itochu Corp. in Tokyo, said of the GDP revision. "But it doesn't change the fact that the economy lacks strength and can't get out of a holding pattern."
"The nominal economy is actually recovering and that's what today's GDP numbers confirm," Jesper Koll, head of the Japan unit of Wisdomtree Investments Inc., said in a Bloomberg Television interview Thursday. Even so, "there's not a lot of gusto yet there," he said, pointing to spending that continues to lag behind income gains.
The Details
Private consumption increased 0.2 percent in the second quarter from the previous quarter, matching a preliminary 0.2 percent gain (estimate +0.2 percent).
The GDP deflator rose 0.7 percent from a year earlier.
Separately, Japan's July current-account surplus was 1.94 trillion yen (estimate of 2.07 trillion yen). In yen terms, exports were down 15.7 percent year-over-year while imports were down 26 percent. In key sectors, auto exports were down 11.5 percent, ship-making was down 52.9 percent and metals were down 21.7 percent.


— With assistance by Connor Cislo, Betty Liu, Yoshiaki Nohara, and Tomoko Sato
Before it's here, it's on the Bloomberg Terminal.
LEARN MORE