Hammond Says EU Will Hurt Itself by Attacking City of London
by
Chancellor says European companies use London to raise funds

Removing clearing will raise costs, benefit U.S., Hammond Says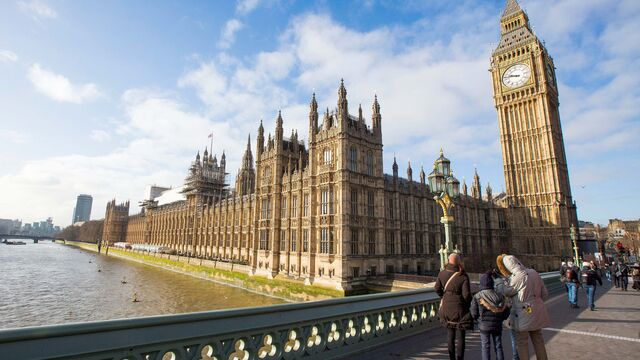 U.K. Chancellor of the Exchequer Philip Hammond warned European governments they will end up hurting their own economies if they use Brexit negotiations to shrink London's financial might.
EU countries have much to lose if they seek to restrain the City of London given many of their companies use its markets to raise capital, Hammond told a committee in the House of Lords on Thursday. He also said any effort to shift clearing operations away from the U.K. capital could benefit New York more than Europe.
"I genuinely believe London delivers not only for the U.K., but the European Union as a whole," Hammond said.
The chancellor's comments came a day after he met top British bankers, who worry EU leaders will seek to punish their industry during the U.K.'s withdrawal from the EU given how important it is to the U.K. economy.
'Huge Mistake'
Trying to damage the City "in pursuit of a narrow, hypothetical national advantage would be a huge mistake for any of our European Union partners to follow," Hammond said.
British Bankers' Association Chief Executive Officer Anthony Browne made a similar point on Wednesday in noting "it's in the interest of a lot of customers across Europe to be able to continue to have access to the services that London offers."
A report by TheCityUK, a lobbying group, this week estimated that about 112 companies from other EU states are listed on the London Stock Exchange, and that a third of the EU's wholesale financial services activity is based in the City, with half of the investments made by British private equity firms in 2014 going elsewhere in the region. 
Lending by banks in the U.K. to customers elsewhere in Europe totaled $1.9 trillion at the start of this year. Eighty-five percent of EU hedge fund assets are also domiciled in London and 78 percent of currency trading occurs there, the report said.
Clearing Costs
Hammond echoed Prime Minister Theresa May in saying that while he wants access to the EU for British goods and services, the government can't accept uncontrolled immigration.
The chancellor also said efforts to dilute London as a center for clearing would only force up costs, and benefit financial centers such as New York rather those elsewhere in Europe.
Clearing is a key back-office function that acts as a firewall against defaulting traders. The French and German governments have already begun seeking to wrestle euro clearing from London since the Brexit vote in June.
"Anything which split clearing up or tried to force it to relocate would simply force up the cost of clearing with a cost to the European Union as a whole," Hammond said.
Former Bank of England Governor Charlie Bean said yesterday that he has "absolutely no doubt at all" that London will lose euro-denominated clearing after Britain leaves the EU.
Sign up to receive the Brexit Bulletin, a daily briefing on the biggest news related to Britain's departure from the EU.
Before it's here, it's on the Bloomberg Terminal.
LEARN MORE