Hammond Plays Down Likelihood of Big Fiscal Boost for U.K.
by
Says Bank of England's August stimulus package has had effect

Says fiscal boost can be created without being activated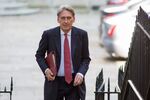 Chancellor of the Exchequer Philip Hammond played down the likelihood he'll announce a sweeping fiscal stimulus in response to Britain's Brexit vote when he delivers his Autumn Statement on Nov. 23.
Reaffirming plans to drop his predecessor George Osborne's goal of balancing the books by 2020, Hammond told lawmakers on Thursday that the current level of public debt is still too high at 1.6 trillion pounds ($2.1 trillion), or almost 83 percent of gross domestic product.
"We are getting quite close to the level that might make a difference to the willingness of markets to lend to us," Hammond told the House of Lords Economic Affairs Committee in London. "I don't think we should be cavalier about the levels of debt."
Plans to turn a budget deficit of 4 percent of GDP into a surplus by the end of the decade were ditched when Theresa May became prime minister amid concern the decision to leave the European Union could push Britain into a recession. With the economy performing better than many had expected, Hammond is stressing that the goal has been postponed, not abandoned. 
The U.K. economy had stabilized after the shock of the Brexit vote, partly thanks to the Bank of England unleashing new monetary stimulus in August, and fiscal policy can also play a role, Hammond said. But while new fiscal parameters need to be set, they do not have to be tested.
Fiscal Headroom
"We can create headroom for fiscal stimulus whether we decide it is appropriate or not," Hammond said. "It's perfectly possible to design fiscal rules that provide headroom without necessarily using headroom."
Any budgetary response, he added, "has to be a well-designed fiscal stimulus, it has to be limited in duration, it has to be quick in delivering effect," he said. Smaller investment projects may provide a more effective spur than larger ones, which take longer to get started.
Hammond also said that further shocks to the economy as Britain withdraws from the EU should be expected.
"We should be realistic and expect that over the period of negotiations there will be ups and downs," he said.
Before it's here, it's on the Bloomberg Terminal.
LEARN MORE