Market to Show When Brazil Ready for Rate Cut, Goldfajn Says
By and
Risk perception is one condition for monetary easing, he said

Central bank chief said real not out of line with fundamentals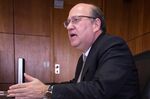 Brazilian policy makers are monitoring investor perception of risk in the Latin American country as one of the conditions for monetary easing, central bank president Ilan Goldfajn said in an interview.
Goldfajn spoke a week after the institution signaled there could be room for rate cuts if certain conditions are met, including government measures to shore up public accounts. President Michel Temer's administration is trying to convince a polarized Congress to pass a series of austerity measures, such as caps on public spending and reductions in pension benefits.
Conditions for monetary easing won't be met with a single piece of legislation or on a specific date, Goldfajn said. Instead, central bankers will be watching investors to see whether they are confident that Temer can succeed, he said from his office in Brasilia.
When Temer's fiscal adjustment is on the right track, "you'll immediately see that Brazil's country risk -- as measured by credit default swaps, the Emerging Markets Bond Index and risk premium -- will fall," said Goldfajn, who is 50. "Inflation expectations will improve, and all that will give me a signal that we are addressing the fiscal question."
For an in-depth look at monetary policy in Brazil, click here.
Policy makers on Aug. 31 kept the key rate unchanged at an almost 10-year high of 14.25 percent for their ninth straight meeting. They said in minutes to the gathering that they are monitoring all available data to determine when to start easing, which would entail the first reduction in borrowing costs since 2012. Traders in the swaps market bet cuts will start this year.
Real's Appreciation
Asked whether the real, which is the world's best performing currency this year, is out of line with the economy's fundamentals, Goldfajn said: "No, because in addition to the fact that it appreciated there's another, that it depreciated much more than others last year." 
Exporters and some economists have voiced concern that a stronger real could narrow a trade surplus and widen the current account deficit. If investors perceive a deterioration in external accounts, the real would automatically adjust, Goldfajn said.
While the Temer administration is proposing the right measures to tackle the country's fiscal problems, the economy will only recover gradually next year, the central bank chief said.
"The path is long, but at least we're on the right path," said Goldfajn, who holds a doctorate in economics from the Massachusetts Institute of Technology.