German Bonds Drop as Draghi Cools Speculation of Further Easing
By
Longer-dated securities underperform their shorter-term peers

'Disappointment prevails' after ECB meeting: Commerzbank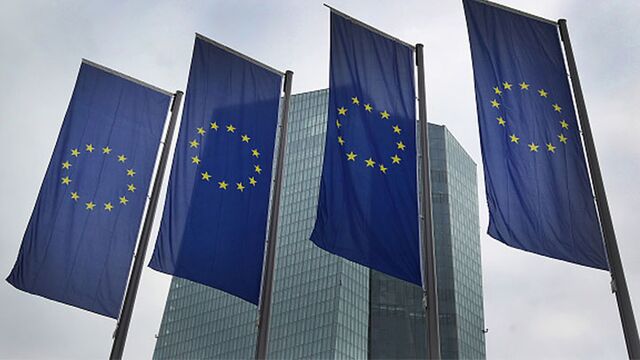 Germany's government bonds fell for the first time in four days after the European Central Bank made no changes to its main interest rates or asset-purchase program. 
The nation's longer-dated bonds underperformed their peers as ECB President Mario Draghi said in Frankfurt that officials didn't discuss an extension to its bond-buying plan. The decision to maintain policy damped speculation that the central bank would step up quantitative easing or adjust rules to ease a perceived scarcity of bonds available to buy.

"People expecting a dovish ECB would have been disappointed and that's why yields are rising," said Mohit Kumar, head of rates strategy at Credit Agricole SA's corporate and investment-banking unit in London. "Not only did he not deliver on either a rate cut or an extension of QE, he had an opportunity to provide hints at what he could deliver, but he didn't use it."
German 30-year bund yields jumped nine basis points, or 0.09 percentage point, to 0.51 percent as of the 5 p.m. London time close. The 2.5 percent security due in August 2046 fell 3.295, or 32.95 euros per 1,000-euro ($1,126) face amount, to 155.179.
The nation's benchmark 10-year debt yield rose six basis points to minus 0.06 percent, steepening the so-called yield curve.
The yield on similar-maturity Spanish bonds increased six basis points to 0.99 percent, after earlier falling to a record-low 0.90 percent.
ECB Policy
The ECB's decision to leave the deposit rate at minus 0.4 percent was forecast by 61 of 64 analysts in a Bloomberg survey. Officials maintained the central bank's QE program at 80 billion euros a month, also as predicted.
Germany's 10-year yield ended the day little changed at the last meeting on July 21, when the ECB also kept its policy unchanged. It dropped to a record-low minus 0.205 percent on July 6 amid speculation the U.K.'s decision to leave the world's biggest trading bloc would slow global growth.
Most economists surveyed by Bloomberg last week expected the ECB to announce additional stimulus measures before year-end, although not necessarily today, given that regional inflation remains well below the central bank's goal of close to 2 percent.
Bond Scarcity
A majority also expected policy makers to change the parameters of the program at some point to avoid a potential shortage of securities as more bonds fall below the deposit rate. That makes them ineligible for purchase.
The yields on $1.87 trillion of government securities that comprise the Bloomberg Eurozone Sovereign Bond Index are currently below the ECB's deposit rate. That's almost 30 percent of the total.
Last week, 23 of 50 respondents in the Bloomberg survey forecast the central bank will remove its deposit-rate floor, meaning there would be no minimum yield for QE targets, sometime by the end of June next year.
Draghi said after the ECB's policy meeting that officials will study options to ensure the QE program doesn't run out of bonds to buy as he played down the need to commit to new stimulus for now.
"Disappointment prevails," said Christoph Rieger, head of fixed-rate strategy at Commerzbank AG in Frankfurt. "Some in the market were speculating on QE measures. Today's decision should take the edge out of this speculation."