Euro Reaches 2-Week High as ECB Refrains From Expanding Stimulus
By and
Single currency climbs versus most of its 16 major peers

Pioneer's Upadhyaya says markets were disappointed by ECB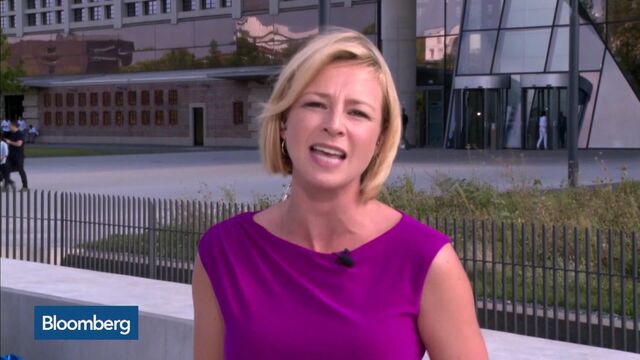 The euro rose to a two-week high after the European Central Bank refrained from expanding its quantitative-easing program and left its key interest rates unchanged.
The shared currency advanced versus the dollar as ECB President Mario Draghi told a news conference in Frankfurt that the institution didn't discuss an extension of its asset purchase plan and that it was cutting its 2018 economic growth forecasts. The euro climbed against 15 of its 16 major counterparts.

"The markets were disappointed that the ECB did not reveal anything new," Paresh Upadhyaya, director of currency strategy in Boston at Pioneer Investments, which oversees about $236 billion, said by e-mail. "With little change to the gross domestic product and inflation forecasts, along with the lack of new policy initiatives, the market took it as a sign to buy euros."
The euro extended its gain this year as Draghi played down the need for more stimulus by suggesting the central bank's policy has been very effective, even as growth and inflation remain below-target. About half of respondents to a Bloomberg survey conducted last week foresaw action by the central bank at this meeting, with almost all the others predicting changes in October or December.
The currency climbed 0.2 percent to $1.1260 as of 5 p.m. in New York, after touching the highest since Aug. 26. It added 0.9 percent to 115.42 yen.
Next Time?
"If you want the currency to go down you need to feed the market more stimulus or the chance that it's coming soon," said Stuart Bennett, head of Group-of-10 currency strategy at Banco Santander SA in London. "And that's not in the comments."
The lackluster economy is encouraging speculation that officials will need to act, sooner or later. Citigroup Inc.'s Economic Surprise Index for the euro area dropped below zero last week, signaling that data in the region are falling short of forecasts.
One option is for Draghi to alter the terms of QE to allow the ECB to purchase bonds yielding less than the deposit rate, currently minus 0.4 percent. That would ease the perceived scarcity of available debt caused by easy-money policies that are increasingly sending yields below zero.
"There's a whiff of complacency," Patrick O'Donnell, a money manager at Aberdeen Asset Management Plc in London, said in a note. "There's been no changes to policy. Data since the last forecast round had been OK, but the outlook for inflation and the known political risks coming up suggest that the ECB should be being a bit more proactive."