Euro Climbs to Two-Week High as Investors Prepare for Draghi
by
Attention focuses on tweaks to ECB's QE rather than rate cuts

Single currency rises versus most of its 16 major peers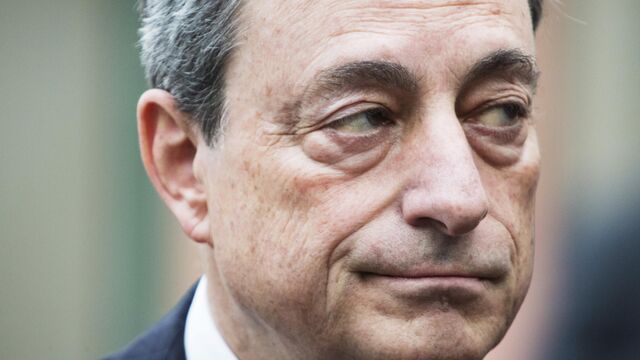 The euro rose to a two-week high as traders waited to see whether the European Central Bank will expand its quantitative-easing program to kickstart a lackluster economy.
The market's focus is on potential tweaks to asset purchases, rather than interest rates, which economists surveyed by Bloomberg predict will be left on hold. The ECB policy decision, the first since July 21, will be announced at 1:45 p.m. in Frankfurt, with President Mario Draghi due to address reporters 45 minutes later.

The shared currency advanced against 11 of its 16 major peers as investors weighed the policy chief's options. With euro-zone inflation stuck close to zero, analysts have been anticipating an expansion of monetary stimulus at some point, but are divided on the timing and nature of the changes. About half of respondents to a Bloomberg survey last week foresaw action today, with almost all the others predicting tweaks in October or December.
"We've been quite confident that, either in this meeting or next, we expect the ECB to extend asset purchases," said Richard Falkenhall, a strategist at SEB AB in Stockholm.
The euro climbed 0.5 percent to $1.1296 as of 11:35 a.m. in London, after touching $1.1300, the highest since Aug. 26.
Removing Floor
One option is for Draghi to alter the terms of QE to allow the ECB to purchase bonds yielding less than the deposit rate, currently minus 0.4 percent. That would ease the perceived scarcity of available debt caused by easy-money policies that are increasingly sending yields below zero.
"We think maybe they'll take that limit away completely," Falkenhall said. That would push yields on shorter-dated bonds lower, "and usually you would expect that to have a negative impact on the euro."
For more on the ECB's policy options, click here.
Following the central bank's last policy announcement on July 21, the euro briefly tumbled to a three-week low even as Draghi refrained from expanding QE, saying officials would wait for the economic impact of Brexit to become clearer. The currency has dropped almost 1 percent versus the dollar since the U.K. voted to leave the European Union on June 23, and is up 4 percent this year.
The ECB will also release its inflation and growth outlooks after the policy meeting. Citigroup Inc.'s Economic Surprise Index for the region dropped below zero last week, signaling that data are falling short of forecasts.
Watch Next: Balboni: QE the Only Feasible Option for ECB Stimulus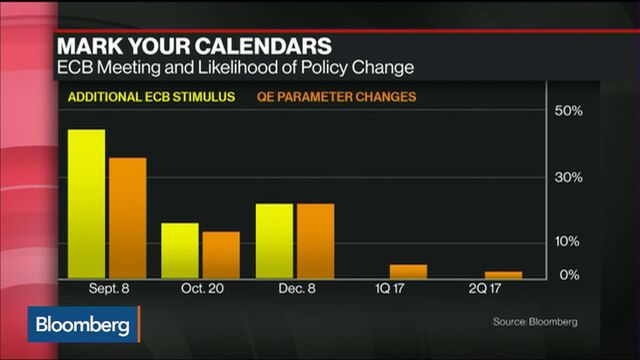 Before it's here, it's on the Bloomberg Terminal.
LEARN MORE