markets
EU's Brexit Fightback Begins With Security on Summit Agenda
By
Merkel and Tsipras hold parallel meetings to shape EU's future

Consensus forming on security, defense matters in Bratislava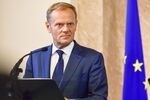 Angela Merkel will have barely finished lunch in the Berlin Chancellery with three fellow European Union leaders when, more than 1,100 miles to the southeast, Prime Minister Alexis Tsipras hosts a meeting of five southern counterparts in the Greek capital.
Friday's twin-track diplomacy may have differing accents but leaders from north and south agree on the core challenge ahead: revamping Europe following the U.K.'s decision to quit the bloc. Amid a mass influx of refugees, record youth unemployment and the rise of populism that's eroding support for established parties, Brexit has triggered a realization that the EU needs to refocus on policies of greater relevance to its 500 million inhabitants.

"People are worried about the phenomena that seem to be out of control -- migration, terrorism, external threats, and the consequences of globalization," EU President Donald Tusk told reporters in the Latvian capital, Riga, on Thursday. "We have to confront those issues and demonstrate our determination and our capacity to ensure on the one hand the openness of Europe and on the other the protection of our citizens."
Without Britain
The forum for deliberations will be a meeting of government heads in Bratislava, Slovakia, on Sept. 16 that will mark the first EU summit since the U.K.'s accession in 1973 at which Britain won't be represented. All work now is geared toward preparing for that gathering, according to a French official who briefed reporters in Paris on Thursday ahead of President Francois Hollande's visit to Athens.
"I sense a strong commitment politically to move forward together," Dutch Finance Minister Jeroen Dijsselbloem told reporters Friday on his way into talks with his euro-area counterparts that are also taking place in the Slovak capital.
For some, losing the bloc's second-biggest economy is a chance to become leaner and more politically dynamic. Freed of a habitual opponent of EU policy expansion, the other 27 will weigh policy initiatives that Brexit has made easier, including shared border control and deeper military cooperation.
"We will see for the first time in Bratislava that the U.K. absence is also a chance for the EU to act," said Manfred Weber, a member of Merkel's Bavarian sister party who heads the European Parliament's conservative EPP bloc. "This is an opportunity when it comes to external security and defense."
For more of the many, varied red lines among the EU 27, click here.
While there is still wide disagreement over more radical changes, the union's top officials have identified policies where they believe there is consensus and which will win popular support, according to diplomats in Brussels with knowledge of the preparations. They asked not to be named because some of the measures may be previewed in Strasbourg next week by European Commission President Jean-Claude Juncker in his "state of the union'' speech.
Among the plans are:
Moves toward closer military cooperation by creating a joint command center for European operations. The U.K. long opposed progress in this area to stymie any plans for an EU army that would claw away national sovereignty and weaken NATO
A renewed push to establish a force to guard the EU's external borders
Plans to share terrorism intelligence in the wake of the influx of more than 1 million migrants in 2015 and a wave of Islamic State attacks
Moves to introduce systematic checks and electronic registration of people entering and leaving the bloc at airports and other border points


"Right now we don't always have an idea who came and who left,'' Tomas Prouza, the Czech Republic's state secretary for EU affairs, said in an interview. "Whether you enter through an airport or a small border crossing, there must be a way to scan your passport biometrically and keep it in a database.'' Now, he said, "after Brexit, there's a feeling in the EU that these kinds of things must happen much more quickly than in the past."
Apple Taxes
The popular fightback has arguably already begun after the commission that Juncker leads hit Apple Inc. with a record 13 billion-euro ($14.6 billion) tax demand and EU ethics officials sought clarification of his predecessor Jose Barroso's new role advising Goldman Sachs Group Inc. on Brexit.
In a further sign of moves aimed at increasing its appeal to ordinary citizens, the EU is set to redouble efforts to break down barriers for consumers to make it easier for people to access music and movies without being blocked by cross-border licensing restrictions. Other plans include granting greater flexibility under the bloc's national spending rules to foster investment in projects aimed at reducing youth unemployment without it being counted in a country's budget deficit numbers.
EU Crossroads
The U.K's impending withdrawal puts the EU at a crossroads leading one of two ways: into a looser union that could start to satisfy emboldened populists who hope Brexit is the first step toward breakup; or toward a more cohesive club that can show it still has relevance long after it stopped being a post-World War II peace project and a Cold War counterweight.
It's the latter path that most -- though not all -- leaders will strive to develop when they gather in Bratislava, following several weeks of preparatory meetings including Merkel's round of talks on Friday with the heads of Belgium, Luxembourg and Romania, following by dinner on Sunday with five more leaders. In Athens, Tsipras will host the heads of France, Italy, Portugal, Cyprus and Malta to forge a shared vision on issues including migration, security and economic growth to "add a Mediterranean perspective" to the agenda, his office said.
To the east, meanwhile, Hungary and Poland have signaled their intention to oppose any Brussels power grabs. They want to weaken the EU's central authority and shift power back to national capitals.
"On the one hand it's quite clear business as usual is not possible after Brexit,'' said Stefan Lehne, visiting scholar at Brussels-based think tank Carnegie Europe. "On the other hand, with such divisions in Europe, so much turmoil, so much fragmentation, there is very little prospect of important decisions any time soon.''
— With assistance by Nikos Chrysoloras, John Follain, Jonathan Stearns, Ladka Mortkowitz Bauerova, Aaron Ricadela, Eleni Chrepa, and Corina Ruhe
(
Updates with Dijsselbloem comment in fifth paragraph.
)
Before it's here, it's on the Bloomberg Terminal.
LEARN MORE