Emerging-Market Rally Fades as Draghi Comments Quell Risk Demand
Taylor Hall, Ian Sayson, Natasha Doff
ECB policy makers didn't discuss extending bond buying program

Equity benchmark trades little changed after four-day rally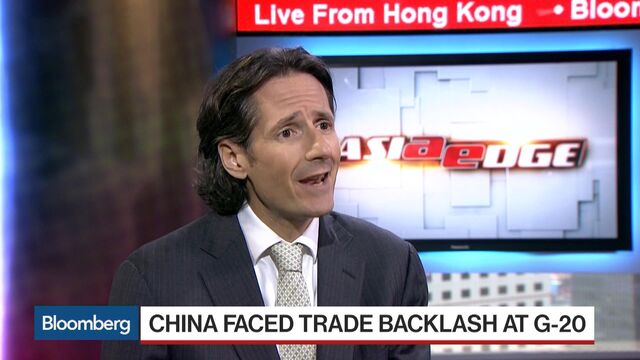 This month's emerging-market rally cooled after European Central Bank President Mario Draghi downplayed the need to extend a stimulus program that has propped up demand for riskier assets.
The MSCI Emerging Markets Index closed little changed at 927.29 in New York after fluctuating between a 0.3 percent gain and a 0.2 percent drop. The benchmark gauge advanced 3.9 percent in the previous four days. Mexico's peso weakened the most in two months, leading declines among developing-nation currencies Thursday.
The ECB on Thursday cut growth forecasts for the euro-area in 2017 and 2018 and left unchanged the timetable for maintaining unprecedented stimulus, or quantitative easing. Draghi said policy makers didn't discuss an extension to their bond-buying program and downplayed the need to commit to new stimulus for now. The comments quelled a rally driven by speculation that global central banks would continue to support the flow of money into developing nations.
"Central banks are now acknowledging the limits to additional easing -- this is true for the BOJ, the BOE, and now even the ECB," said Ankur Patel, chief investment officer at R-Squared Macro Management. "Without more easing, the global economy lacks a growth catalyst, and this realization among investors is taking the wind out of emerging-market assets."
Fed Outlook
Gains in emerging markets had gathered pace this week as recent U.S. services and jobs data cast doubt on the speed with which the Federal Reserve will move to increase interest rates. Signs of growth in China added to the momentum.
Benchmark equity gauges in Europe led declines among emerging markets Thursday. The Micex Index fell 0.2 percent from a record high in Moscow, ending a five-day advance. Hungarian stocks dropped 0.5 percent. Polish stocks retreated for the first time in five days, pushing the WIG20 Index down 0.9 percent.
Brazil, China
The Ibovespa rose for a second day as Brazilian raw-material producers including Petroleo Brasileiro SA followed gains in commodity prices. The state-run oil company gained 2.4 percent, helping outweigh a drop in financial stocks including exchange operator BM&FBovespa SA, which dropped as a weekly report showed inflation accelerated more than forecast, fueling bets the central bank will keep the benchmark Selic rate at 14.25 percent, the highest among major global economies.
Markets in Asia, which closed before the ECB comments, advanced as data showed that Chinese imports increased in August for the first time since 2014. The Hang Seng China Enterprises Index climbed 0.4 percent to its highest close since Dec. 2. Equity benchmarks in South Korea and Malaysia each rose 0.1 percent.
Mexico's peso declined 1.6 percent. Some analysts say the currency, which has declined nearly 8 percent in 2016, has been unduly suffering because of its use as a proxy for overall market risk. The Turkish lira, Brazilian real and South African rand each slid more than 0.4 percent.
Currencies in some energy-exporting nations strengthened as Brent crude rise toward $50 a barrel after data showed U.S. oil inventories fell the most since January 1999. Colombia's peso gained 0.6 percent. The Russian ruble gained 0.2 percent.
Hong Kong Borrowing Costs
The cost of borrowing yuan in Hong Kong surged to a seven-month high amid speculation China's central bank is intervening to discourage bearish bets on the currency. The overnight Hong Kong Interbank Offered Rate climbed 3.88 percentage points to 5.45 percent, the most expensive since February, according to Treasury Markets Association data.
Russian government bonds extended gains for a fifth day, with yields on 10-year notes falling eight basis points to 7.91 percent, the lowest level since early 2014. Stabilizing oil prices are helping the world's biggest energy exporter to recover from a recession.
The premium investors demand to own emerging-market debt over U.S. Treasuries narrowed six basis points to 325, according to JPMorgan Chase & Co. indexes.