European Central Bank Leaves All Three Rates Unchanged
By
Benchmark rate stays at zero, deposit rate at minus 0.4%

President Mario Draghi to speak at 2:30 p.m. in Frankfurt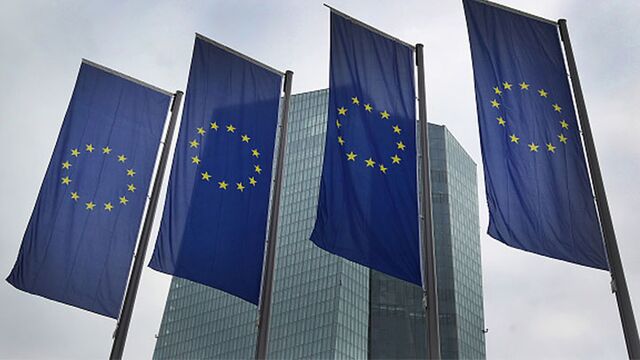 The European Central Bank kept its stimulus program unchanged in a sign that policy makers don't see an immediate danger to the euro-area recovery from risks including Britain's decision to leave the European Union.
The Governing Council left the main refinancing rate at zero, the deposit rate at minus 0.4 percent and asset purchases at 80 billion euros ($90 billion) a month, as predicted in a Bloomberg survey. President Mario Draghi will present new economic forecasts when he addresses reporters at 2:30 p.m. in Frankfurt.
To follow Bloomberg's live blog on the ECB's rate decision, click here.
"The Governing Council continues to expect the key ECB interest rates to remain at present or lower levels for an extended period of time, and well past the horizon of the net asset purchases," it said in a statement. "The monthly asset purchases of 80 billion euros are intended to run until the end of March 2017, or beyond, if necessary, and in any case until it sees a sustained adjustment in the path of inflation consistent with its inflation aim."
The focus now turns to whether Draghi will announce any technical adjustments to the ECB's quantitative-easing program, which could indicate policy makers are preparing to prolong the plan past the current end-date. While most economists surveyed by Bloomberg predict an extension will be announced before the end of the year, officials first need to decide how to prevent the 1.7 trillion-euro plan from running into scarcity problems.
The euro rose to a two-week high after Thursday's announcement, extending an earlier advance versus the dollar. Germany's government bonds fell for the first time in four days, with the country's 10-year bund yields rising from the lowest level in almost two months.
The ECB's position is that the QE program has the flexibility to be adjusted. Officials have previously made technical changes including raising the proportion of each bond issue they can buy, and adding asset classes such as regional and corporate debt.
The limits on individual bond purchases could be raised again, or the central bank could drop its self-imposed rule that debt is only eligible if it has a yield higher than the deposit rate. The ECB could also deviate from the so-called capital key, in effect buying more from highly indebted nations such as Italy -- though Bundesbank President Jens Weidmann has already warned against the risk of blurring the line between monetary and fiscal policy.

The central bank's updated economic outlook should confirm that the recovery, though gradual, remains on track. One euro-area official, speaking on condition of anonymity, said the central bank won't change its inflation forecasts for 2016 to 2018 from the last round in June, and its predictions for gross domestic product will be cut slightly for the next two years. The projections aren't final until they are published, and a spokesman for the central bank declined to comment on the matter.
Missing Goal
In June, the ECB forecast that economic growth would average 1.6 percent this year and 1.7 percent in 2017 and 2018. It said price gains will accelerate to 1.6 percent in 2018, still shy of the goal of just under 2 percent.
Even so, recent data have been weaker than estimates. Inflation was just 0.2 percent in August, lower than anticipated and unchanged from July. A purchasing-managers survey by IHS Markit showed growth in the 19-nation bloc at its weakest in 19 months. Euro-area unemployment has been stuck at 10.1 percent since April, and measures of economic confidence have dropped.
Headwinds include the fallout from the U.K.'s vote for Brexit, Italy's bad-loan crisis and a looming third parliamentary election in Spain. Banks have complained about the effect of negative rates on their profitability, with Deutsche Bank AG Chief Executive Officer John Cryan calling on the ECB to change course.
Resilience Signs
Draghi might point to the ECB's credit-easing measures and a moderate pick-up in loan growth. Lending to companies rose 1.9 percent in July, the fastest pace since October 2011.
Executive Board member Peter Praet, the ECB's chief economist, said on Aug. 31 that the central bank has been very careful in not drawing "hasty conclusions" about the impact of Brexit on the euro area, which had so far showed "encouraging signs of resilience." U.K. economic data in August has also so far been largely stronger than forecast.
— With assistance by Catherine Bosley, Andre Tartar, Mark Deen, Stephen Foxwell, Carolynn Look, Angela Cullen, Kristian Siedenburg, Alexander Kell, Scott Hamilton, Jurjen Van De Pol, Zoe Schneeweiss, Piotr Skolimowski, Jeff Black, Emma Charlton, Craig Stirling, Adveith Nair, and Stu Metzler
Before it's here, it's on the Bloomberg Terminal.
LEARN MORE