Five Things You Need to Know to Start Your Day
Get caught up on what's moving markets.
by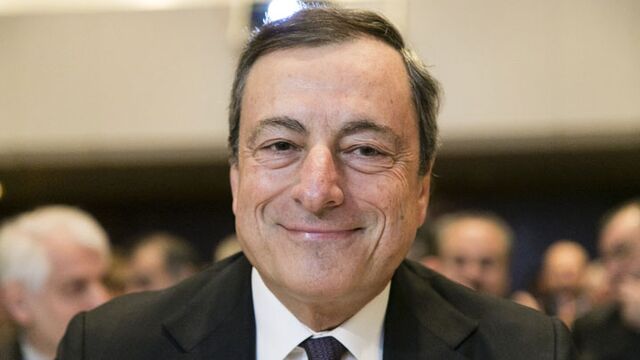 Want to receive this post in your inbox every morning? Sign up here.
It's ECB day, oil traders stay pessimistic, and yuan intervention speculation rises. Here are some of the things people in markets are talking about today.
ECB day
Expectations are low for today's monetary policy decision by the European Central Bank. Only one of the 70 analysts surveyed by Bloomberg predicts a change in the base rate from zero percent. For ECB President Mario Draghi there are no signs of market stress to force immediate action, but with macro data continuing to disappoint, there is talk that he will have to extend the central bank's asset purchase program, if not at this meeting, then soon. Ahead of today's announcement at 7:45 a.m. ET, Spanish bonds yields are at a record low and the euro was trading $1.1276 at 5:53 a.m. ET, near a two-week high.
Pessimistic oil traders
There was little optimism among oil traders at the Asia-Pacific Petroleum Conference in Singapore this week, with almost all agreeing that Brent crude will remain in the $40 to $60 per barrel range for the next 12 months. Doubts over an agreement to freeze production at this month's OPEC (and friends) meeting in Algiers continue to weigh on the price outlook. The fact that Iran is increasingly likely to extend production beyond pre-sanctions levels is also reducing bullishness on the commodity. The market today has, however, seen a boost from falling U.S. crude stockpiles with a barrel of West Texas Intermediate for October delivery trading at $46.30 at 5:57 a.m. ET.
Yuan intervention
Increasing speculation that China's central bank is intervening in the foreign exchange market to support the yuan has seen the cost of borrowing the currency in Hong Kong spike. With the yuan approaching 6.7 per dollar, seen as the People's Bank of China's redline in halting depreciation of the currency, overnight Hibor rose to the highest since February. Data released yesterday showed that the country's foreign exchange reserves are at the lowest since 2011 amid the continuing defense of the 6.7 level. It's not just Hibor that is rising; rule changes for money market funds due to be introduced next month are also set to push Libor even higher, according to some analysts.
Markets marking time
It was something of a mixed bag in Asia overnight as the MSCI Asia Pacific Index rose less than 0.1 percent, with Hong Kong's Hang Seng Index's 0.8 percent gain countered by Japan's Topix index's 0.3 percent slip. In Europe, the Stoxx 600 Index was little changed at 6:14 a.m. ET as investors await the ECB decision. Futures in the S&P 500, which hasn't seen a daily move of more than 1 percent since July 8, were 0.1 percent higher. 
Presidential campaign
Hillary Clinton and Donald Trump put their weaknesses on display a forum on the U.S. military Wednesday night. Clinton was put on the defensive over her decades-long record in government while Trump was light on the details of how he would defeat ISIS. The Republican nominee's use of social media in his campaign to date has been compared to that of Canada's current Prime Minister, Justin Trudeau (apologies in advance for the pic.)
What we've been reading 
This is what's caught our eye over the last 24 hours.
Correction: Corrects spelling of Elon Musk's surname in reading list. 
Before it's here, it's on the Bloomberg Terminal.
LEARN MORE