Draghi Orders ECB to Review QE Program Amid Bond Scarcity
By
ECB president says committees studying bond-purchase delivery

Economic forecasts only marginally revised compared with June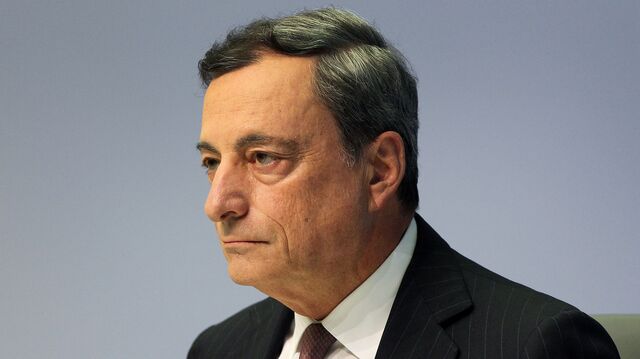 Mario Draghi said the European Central Bank will study how to ensure its quantitative-easing program doesn't run out of bonds to buy, while playing down the need to commit to fresh stimulus just yet.
With only six months to go until the scheduled end of QE, the ECB president needs to weigh signs that the region's recovery is losing momentum against increasing concern about asset scarcity. The central bank has missed its target of inflation just under 2 percent for over three years and updated projections on Thursday showed it doesn't foresee reaching the goal before late 2018.
"The assessment was that, for the time being, the changes are not so substantial as to warrant a decision to act," Draghi said at a press conference in Frankfurt. "The main theme was to make sure that the program and decisions we took in March can be implemented in the new constellation of interest rates, which clearly have restricted the eligibility universe."
The 25-member Governing Council earlier decided to keep its main refinancing rate at zero, the deposit rate at minus 0.4 percent and asset purchases at around 80 billion euros ($90 billion) a month until March 2017, as predicted in a Bloomberg survey.
"Draghi knows what has to be done -- asset purchases will have to continue beyond March 2017 -- but it seems too many of the council want to delay the decisions over what to buy and for how long," said Richard Barwell, senior economist at BNP Paribas Investment Partners in London. "In the meantime, Draghi struggled manfully not to raise expectations of the inevitable."
While German bonds declined during the press conference, the 10-year yield remained below zero, and within a range seen in the previous two days. Declines in similar-maturity Spanish and Italian bonds pared throughout the day as the initial knee-jerk reaction faded, while the euro, which earlier climbed as much as 0.8 percent was 0.3 percent higher at $1.1271 at 5:06 p.m. Frankfurt time.
With more than 60 percent of German sovereign debt with yields below the deposit rate, and thus ineligible for purchase under the ECB's self-imposed rules, the institution is faced with the risk of running out of debt should it decide to extend the duration of QE.

'Full Mandate'
"The Governing Council tasked the relevant committees to evaluate the options that ensure a smooth implementation of the purchase program," Draghi said, without divulging further details of what they might consider. "The committees have a full mandate. They will look at all the options that might be used to redesign the program, and then of course we'll have a discussion in the Governing Council."
Analysts have proposed raising limits on individual bond purchases, deviating from the so-called capital key, which effectively means buying more from highly indebted nations such as Italy, or even scrapping the deposit-rate floor altogether. Draghi, who has previously pointed out that the program has enough flexibility to reach its goals, on Thursday declined to elaborate on the options that could be deployed.
While stressing that policy makers didn't discuss the possibility of extending the duration of QE, he reaffirmed the Governing Council's "unanimous" commitment to carry out current stimulus until it sees a "sustained adjustment in the path of inflation." He also said officials didn't discuss adding stocks to the buying mix and so-called helicopter money.
The ECB confirmed its outlook for consumer-price growth in 2018 at 1.6 percent, while slightly cutting the 2017 outlook to 1.2 percent from 1.3 percent. It also revised down forecasts for euro-area growth in each of 2017 and 2018 to 1.6 percent from 1.7 percent, while raising the prediction for the current year to 1.7 percent from 1.6 percent.

"We see that our monetary policy is effective, we see that its full impact is now in the macroeconomic projections, but we also see that there have been considerable decreases in all interest rates," Draghi said. "Available evidence so far suggests resilience of the euro-area economy to political and economic uncertainties."
Growth in the region slowed to 0.3 percent in the second quarter after the economy expanded 0.5 percent in the three months through March. Inflation was just 0.2 percent in August, lower than anticipated and unchanged from July. A purchasing-managers survey by IHS Markit signaled economic activity in the 19-nation bloc was at its weakest in 19 months.
"We continue to expect to continue real gross domestic product to grow at a moderate but steady pace," Draghi said in his opening statement. "The economic recovery in the euro area is expected to be dampened by subdued foreign demand, partly related to uncertainty surrounding the U.K. referendum" on European Union membership.
Draghi also rejected criticism that his negative-rates policy was hurting banks and thus hampering credit to support the recovery.
"Negative interest rates will certainly have consequences and challenges for the banks of which we have to be aware," the ECB president said. "However, low interest rates should not be used as the justification for everything that goes wrong with banks today."
— With assistance by Catherine Bosley, Jill Ward, Carolynn Look, Angela Cullen, Scott Hamilton, Zoe Schneeweiss, Jana Randow, Piotr Skolimowski, Jeff Black, Emma Charlton, and David Goodman
Before it's here, it's on the Bloomberg Terminal.
LEARN MORE