markets
Draghi Joins Carney in Asking Banks to Play Along With Low Rates
By and
ECB president says low rates not a reason for all problems

Carney said yesterday he expects last rate cut to be passed on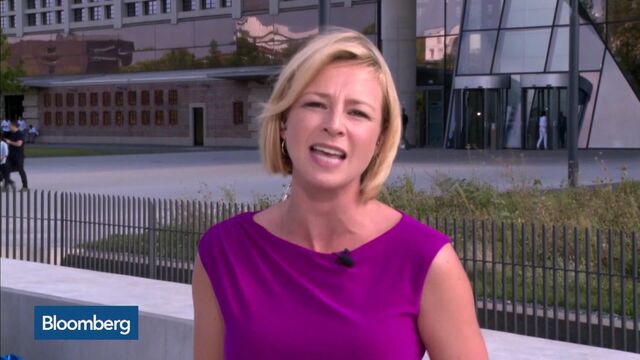 Europe's most powerful central banker has a message for financial institutions: Stop complaining and play your part in the recovery.
"Low interest rates should not be used as the justification for everything that goes wrong with banks today," European Central Bank President Mario Draghi said at a press conference on Thursday, after policy makers kept their monetary stimulus unchanged. "It would be a mistake to do so."
His comments took a similar tone to those of Bank of England Governor Mark Carney, who told U.K. lawmakers on Wednesday that he isn't worried about banks' ability to pass on his institution's August rate cut, saying he anticipates "virtually the full amount" to filter through to the economy "in the course of the next few months."
Their remarks feed into a debate around the effectiveness and risks of prolonged low interest rates, with bankers including Deutsche Bank AG Chief Executive Officer John Cryan expressing concerns that negative rates in the euro area are biting into earnings. Daniele Nouy, chair of the ECB's supervisory unit, has cited bank profitability as one of her greatest concerns, and the Governing Council in July discussed an apparent correlation between banks' equity prices and their willingness to lend.

The euro region's 13 biggest publicly traded banks reported a pretax profit slump of 20 percent in the first quarter of 2016 from the previous year.
Draghi said the gap was caused by the start of the ECB's quantitative-easing program, which dealt banks "huge" capital gains in the first three months of 2015, while net interest income remained more or less stable. Negative rates "will certainly have consequences and challenges" for banks, but their balance sheets will ultimately benefit from monetary policy, he said.
In the U.K., banks including Standard Chartered Plc voiced concerns over low interest rates before the BOE cut its bank rate to 0.25 percent on Aug. 4. Following the move, Royal Bank of Scotland Group Plc introduced a charge on funds for some institutional clients, a sign that banks are seeking ways to fend off the pressure on revenues.
Carney said he is "highly confident" that all of the U.K.'s six big banks "which account for the vast majority of lending" will pass on lower borrowing costs.
The ECB is similarly confident.
"Right now the transmission mechanism is really working very well," Draghi said. "It's never worked better."
— With assistance by Cindy Roberts, and Emma Charlton
Before it's here, it's on the Bloomberg Terminal.
LEARN MORE