DraftKings and FanDuel Go From Buying Ads to Selling Them
FanDuel and DraftKings are using this NFL season to experiment with their nascent custom advertising businesses, opening up a potentially significant new line of business.
By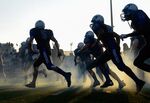 Michael Pine joined FanDuel last July to help the daily fantasy sports company build an advertising business. Pine, who had previously worked for World Wrestling Entertainment and Iron Man, quickly inked a few deals including a big one with Bud Light, which wanted to sponsor a handful of tournaments during the upcoming NFL season. But everything was put on hold when a nationwide controversy broke out about whether daily fantasy sports should be classified as illegal gambling. "We had to pump the brakes," said Pine.