Clinton Seeks to Project Affirmative Message, But Can't Resist Digs at Trump
Rather than focus her attention on her opponent's flaws, Clinton's campaign says she will begin making the affirmative case for her candidacy.
By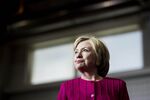 Democratic presidential nominee Hillary Clinton sought Thursday to give voters a sense of the faith that motivates her political career as she began an effort to shift the focus of her campaigning away from Donald Trump, but she couldn't hold back from taking some jabs at the Republican nominee.
Speaking to the National Baptist Convention, Clinton lit into her opponent for being divisive and turning to the African-American community only as he tries to win votes. "Our nation's values are being questioned in this election," she said in Kansas City, Missouri. "We are facing a candidate with a long history of racial discrimination in his business. He traffics in toxic conspiracy theories like the lie that President Obama is not a true American. If he doesn't even respect all Americans, how can he serve all Americans?"
Without mentioning Trump by name, she told the black church crowd that she believes they deserve better than politicians "who think they can just show up at election time, say a few nice words and then earn your support." Last week, Trump traveled to Philadelphia and Detroit to make direct appeals to black voters. "You know better than anyone that people who look at the African-American community and see only poverty, crime and despair are missing so much."
Clinton's speech was the first in a series she will give in the coming weeks aimed at making an affirmative case for her candidacy after spending much of the past few months focused on contrasting herself with Trump, a move her aides acknowledge is a shift in course. On Thursday, she spoke reflectively about her "roll-up-your sleeves-and-get-your-hands dirty faith," explaining to a religious audience that it's that faith that has motivated her for decades.
She spoke about a devotion to prayer that goes back to watching her father kneel beside his bed and her ability to be grateful for not just the good but the bad in her life. "It isn't easy but I have learned to be grateful not just for my blessings but also for my faults. And there are plenty," she said. "I've made my share of mistakes. I don't know anyone who hasn't."
In Detroit, Trump also sounded a softer tone than the one he employs at his campaign rallies. 
"We're all brothers and sisters," he said at the Greater Faith Ministries International church. "...We must love each other and support each other, and we are all in this together."
Previewing Clinton's speech and the others planned for the coming weeks, including one on the economy set for Tuesday, Clinton communications director Jennifer Palmieri said it's difficult for the campaign to balance responding to Trump with a more forward-looking message. That challenge came through in Thursday's speech, during which her veiled jabs at Trump were some of her most pointed lines.
"We believe we have to work extra hard to make sure that the positive notion of what she wants to do breaks through given the amount of interest there is in what he says and also in what we say about him," Palmieri told reporters Thursday aboard Clinton's plane en route to Kansas City. "We recognize the reality of the cycle that we're living in and that we have to put more effort into" ensuring that voters "see aspirationally where she believes the country can go together."
The campaign's aim, Palmieri said, is to "make sure that we're doing everything we can to lift up what she would do as president." The speech series, which will continue at least through the end of September, is being launched this week on the heels of the release of "Stronger Together," a campaign book published Tuesday by Simon & Schuster.
The shift in strategy comes as the race with Trump has tightened in recent weeks, both nationally and in crucial swing states. In Florida, Clinton and Trump are tied at 47 percent support, according to a Qunnipiac University poll released Thursday. The same polling organization also put Trump ahead in Ohio 46 percent to 45 percent, while Clinton retains a small lead in Pennsylvania  (48 percent to 43 percent) and North Carolina (47 percent to 43 percent).
"What we want to do now is make sure that people understand the values that motivate her," Palmieri said. "Ultimately the election shouldn't be about the personalities of either candidate. It should be about where the candidate sees they can help lead the country and bring out the best in the country."
The next speech will be on Tuesday in California and will be centered on the theme of "building an inclusive economy" and will include new policy, Palmieri said, declining to offer more details.
Clinton will also speak this month on national service and on children and families.
Before it's here, it's on the Bloomberg Terminal.
LEARN MORE