Clinton Says There's No Evidence Her Private E-Mail Was Breached
By and
Democratic nominee addresses questions at forum on military

Trump set to follow Clinton answering questions from veterans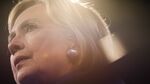 Hillary Clinton said there is no evidence her private e-mail system was hacked and that none of the messages she exchanged with others in government were marked as "top secret" or "classified."
Addressing one of the main lines of attack used by Republican Donald Trump -- that her use of the private system while secretary of state may have jeopardized national security -- Clinton said she used a restricted government system for her most sensitive communications.
Clinton said numerous government systems, including those at the White House and State Department, have been breached by hackers.
"There is no evidence my system was hacked," Clinton said in the first half of a forum on military issues hosted Wednesday night by NBC News and the Iraq and Afghanistan Veterans of America, an advocacy group. She said she communicated classified information "on a wholly separate system" and that nothing that moved through her private e-mail had header markings to indicate highly sensitive material.
She again said her use of a private e-mail system was a mistake. "It was something that should not have been done," Clinton said.
Republican Donald Trump was scheduled to follow the Democratic nominee on the same stage at the Intrepid Sea, Air & Space Museum in New York.
Foreign policy and national security have moved to the forefront of the campaign in recent days. In a speech in Philadelphia earlier in the day, Trump said he'd push Congress to lift caps on military spending to fund an expansion of equipment and personnel for the Army, Air Force, Navy and Marines. He also vowed to demand that military leaders develop a strategy to defeat Islamic State.
Their back-to-back appearances, in 30-minute segments, to take questions from moderator Matt Lauer, members of the military and veterans in the audience, serve as a preview of their first general-election debate, set for Sept. 26. With recent national polls showing Trump has narrowed Clinton's lead, that debate is taking on greater importance for the candidates as they try to shape the race before the Nov. 8 vote.
Clinton and Trump both have shifted their approaches in the final stretch of the election. Clinton, who's been criticized for avoiding answering questions from the media, started this week bringing reporters aboard a new campaign plane as she travels and fielding questions from them on a regular basis. Trump has sought to present a more presidential image by following a script for addresses and putting out policy proposals, like the one he outlined Wednesday on military strength.
— With assistance by Kevin Cirilli, and Jennifer Jacobs
Before it's here, it's on the Bloomberg Terminal.
LEARN MORE