Clinton Confronts E-Mail Questions, Trump Defends Temperament
By , , and
Both candidates address questions at forum on military, vets

Event serves as prelude to coming presidential debates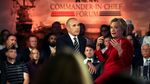 Hillary Clinton and Donald Trump confronted some of the main questions surrounding their candidacies for president Wednesday night with Democrat Clinton defending her handling of classified material while secretary of state and the Republican nominee arguing he has the experience and judgment to serve as commander-in-chief.
The two candidates made back-to-back appearances at a forum on military issues in New York hosted by NBC News and the Iraq and Afghanistan Veterans of America, an advocacy group, as national security has moved to the forefront of the campaign.
Addressing one of the main lines of attack used by Trump -- that her use of the private system while secretary of state may have jeopardized national security -- Clinton said none of the e-mails sent through her private server had "top secret" or "classified" headers. She also said there is no evidence her system was hacked.
She again said her use of a private e-mail system was a mistake. "It was something that should not have been done," Clinton said.
Clinton's answers in the forum were correct as to some specifics of what investigators found, but she omitted other significant findings of the FBI, which called the her handling of sensitive material "extremely careless."
The Federal Bureau of Investigation found that she repeatedly sent or received material marked "confidential" -- a lower form of classification, but one which is defined as information that "reasonably could be expected to cause damage to the national security." She also said in her interview with investigators that she did not know the meaning of some commonly used markings to denote sensitive information.
Business Experience
Trump said his experience in business, which includes international deals, gives him the background to assume the role of president. He brushed aside questions about his temperament.
"I have great judgment. I have good judgment. I know what's going on," Trump said. He hit Clinton for saying he was in favor of the 2003 invasion of Iraq. "I was totally against the war in Iraq."
In at least two interviews before the war, he didn't speak out against it. In one, in 2002, media personality Howard Stern asked him if he favored the pending invasion, Trump answered: "Yeah, I guess so." 
Signaling a shift on another major issue in the campaign, Trump said he'd be open to letting undocumented people who serve in the military gain legal status.
"When you serve on the armed forces, that's a very special situation and I could see myself working that out, absolutely," Trump said when asked if he'd support letting someone who plans to serve in the military live in the U.S. legally.
"We have to be very careful, we have to vet very carefully," he added. "But the answer is it would be a very special circumstance."
Debate Preview
Their back-to-back appearances, in 30-minute segments, taking questions from moderator Matt Lauer, members of the military and veterans in the audience, serve as a preview of their first general-election debate, set for Sept. 26. With recent national polls showing Trump has narrowed Clinton's lead, that debate is taking on greater importance for the candidates as they try to shape the race before the Nov. 8 vote.
Clinton and Trump both have shifted their approaches in the final stretch of the campaign. Clinton, who's been criticized for avoiding answering questions from the media, started this week bringing reporters aboard a new campaign plane as she travels and fielding questions from them on a regular basis. Trump has sought to present a more presidential image by following a script for addresses and putting out policy proposals, like one he outlined Wednesday on military strength.
One thing that hasn't changed is the lines of attack that both candidates are using.
Trump has accused Clinton of military adventurism and sought to tie her tenure as Obama's first-term secretary of state to the rise of the Islamic State and blame her for the deaths of American diplomats in a 2012 attack in Benghazi, Libya. He also has accused her of imperiling national security through her use of the private e-mail server while in the administration and said her family's global fundraising for its foundation while she was secretary of state and seeking the presidency amounts to influence peddling.
Clinton has said Trump is unfit to serve as commander-in-chief and that he is harmful to national security. She cites his calls to stop Muslim immigration to the U.S. and to deport millions of undocumented immigrants, as well as his past characterizations of Mexican immigrants as rapists and his pledge to build and force Mexico to pay for a border wall, which Mexico's president has said is a non-starter. Clinton also has sought to portray Trump as an ally or tool of Russian President Vladimir Putin at a time when U.S. intelligence officials are investigating possible covert Russian influence in the upcoming election.
An NBC News poll released hours before the forum found Trump leading Clinton by 19 points among voters who are serving or have served in the U.S. military, while Clinton held an advantage nationally with all registered voters. Trump announced securing the endorsement of 88 retired U.S. generals and admirals, and Clinton's campaign countered with a list of 95 former officers backing her.
— With assistance by Jennifer Jacobs
Before it's here, it's on the Bloomberg Terminal.
LEARN MORE