China's 'Supply Side' Is a Far Cry From Reagan's
This version favors hands-on state control, not deregulation.
By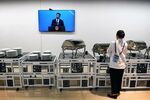 To understand policymaking in China, pay attention to the buzz phrases. The country's favorite economic slogan, "supply-side structural reform," just got its most international exposure so far, at the Group of 20 summit in Hangzhou.
Faced with rising protectionism and a sluggish global economy, China's reform "has entered the deep-water zone where tough challenges must be met," Chinese President Xi Jinping said in a Sept. 4 opening address attended by President Obama, Russian President Vladimir Putin, and Indian Prime Minister Narendra Modi. Calling for "real action" and "no empty talk," Xi said China would continue "vigorously advancing supply-side structural reform."
No one expects the macroeconomic textbook definition of supply side in Xi's China—the theory that inspired Ronald Reagan's economic policies in the 1980s. Reagan's version had as its goal freeing up the economy by cutting taxes and regulations in the hope that companies would invest and produce more, driving growth. Xi's "supply-side structural reform" is a grab bag of policies, focused on cutting excess capacity, shuttering a limited number of "zombie" companies, and subsidizing favored and often inefficient industries, says Barry Naughton, an expert on the Chinese economy at the University of California at San Diego. The point isn't to encourage supply but, for the most part, to curtail it.
First publicized nationally at an annual economic planning meeting at the end of last year, the slogan has since been regularly heralded in the state media as the newest guiding principle for China's economic future. (The "New Normal" was an earlier slogan, referring to China's downshifting economic growth, first propagated by Xi in the fall of 2014.) "Supply-side structural reform is an urgent task that cannot afford any delay," the People's Daily said in January in a front-page commentary. A second-page commentary warned in May of excessive debt and called for more supply-side reform.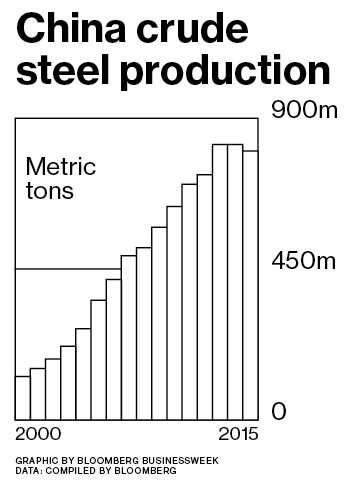 China must especially deal with severe industrial overcapacity, an issue of growing international concern as the country's steel exports have surged, roiling markets in the U.S. and Europe. "It is crucial that China" sets up a way to monitor overcapacity in the steel sector and its causes, according to Jean-Claude Juncker, the European Commission president, who was in Hangzhou.
But controlling supply isn't easy. In the first seven months, the government achieved 48 percent of its planned cut of 45 million tons of production. Yet overcapacity remains huge, warned the National Development and Reform Commission (NDRC), China's state planner, in August.
Local cadres are loath to close factories that owe money to local banks, pay taxes, and, above all, are big employers. "For laid-off steelworkers, what other jobs are there for them?" says Sebastian Lewis of S&P Global Platts in Shanghai. "And then there are all the other businesses that are affected—restaurants, taxi drivers—which have a knock-on effect on the rest of the economy. So that is the hindrance to capacity reductions."
Provincial bosses, however, are eager to appear enthusiastic about the slogan. With a once-every-five-years party congress coming in the fall of 2017, they're vying to show they're on board with the policy; they hope that will help them win a promotion when China shuffles much of its senior leadership. Hebei, home to about one-quarter of China's total steel production; Heilongjiang, part of China's northeastern industrial rust belt; and coastal Shandong have all recently issued supply-side plans, including capacity reduction targets and tax breaks for new industries such as electric vehicles and eco-friendly agriculture. Guangdong, better known for making toys than steel, outdid others with a six-part, 42-page document, complete with a vision statement, Naughton says. "A lot of it is just optics. You have got to look like you are doing a good job implementing Beijing's policy."
The policy shift reflects Xi's desire for stronger, top-down control by the party over the entire economy, says Andrew Batson, research director in Beijing for China consultant Gavekal Dragonomics. The NDRC is setting production targets in steel, coal, and other industries. The State-Owned Assets Supervision and Administration Commission, which manages China's largest state-owned enterprises, announced a 200 billion-yuan ($30 billion) fund on Aug. 18 to support company restructuring and innovation. And the government is ordering big companies, including steelmakers, to merge operations, in part to prepare for more international competition.
"It is about the government micromanaging the economy, saying this industry will produce this much and will lay off this many people; it is very interventionist. It is not about the government laying out general principles and letting the market sort it out," Batson says. "For economists who are real liberals, they think it is terrible. They think it is all about central planning."
The bottom line: President Xi is using the language of supply-side economics to explain and justify more central planning of the economy.
Before it's here, it's on the Bloomberg Terminal.
LEARN MORE