Biggest Commodity Surprise of 2016 Is a Windfall for Miners
by and
Benchmark coking coal price has more than doubled this year

World's largest miner BHP is top shipper of the fuel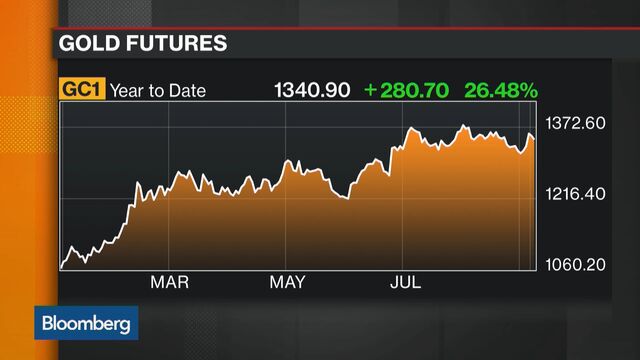 The surprise surge in coal prices will provide an unexpected profit boost for the world's biggest mining companies as they navigate a commodity downturn that sapped earnings.
Gains for coking coal, used with iron ore to make steel, accelerated in recent weeks and benchmark prices from top producer Australia jumped 28 percent this week, the most in data going back to 2013. At current prices, that would add almost $5 billion to BHP Billiton Ltd.'s underlying earnings before interest, tax, depreciation and amortization in the year ending June 30, according to Liberum Capital Ltd.

Coking coal has more than doubled this year as China's production curbs increased its reliance on supplies from other nations. The rally -- which Morgan Stanley called a "complete surprise" -- is a bright spot for miners still suffering from a plunge in commodities over the past five years. It will also help compensate for a worsening outlook for iron ore, BHP's main earner, with the firm and a raft of banks expecting prices to retreat by year-end.
For a Gadfly column on why the rally in coking coal will go flat, click here.
"Nobody saw this coming," Richard Knights, a mining analyst at Liberum Capital Ltd. in London, said by phone. "It's caught the whole market by surprise. If coal prices stay where they are, thermal and coking, there are huge earnings upgrades to come through in the sector."
Prices Surge
Australian premium hard coking coal jumped 9.5 percent on Thursday and rose another 4.3 percent today to $180.90 a ton, the highest since Bloomberg data starts. It's up 31 percent this month.
The majority of sales are based on quarterly contracts, which were set about 90 percent below the current spot price. Producers should now be better placed to negotiate higher prices for future rates. The fourth-quarter contract may now be set near $125 from about $92 for the current quarter, according to a Bloomberg Intelligence forecast.
The improved earnings outlook for companies such as BHP and Rio Tinto Group, which produces coking and thermal coal, "translates to material upside risk to our dividend forecasts," Macquarie Group Ltd. analysts wrote in a note dated yesterday.
BHP shares have climbed 33 percent in London in 2016, rebounding from a three-year slump. That's still much less than this year's fourfold jump for Teck Resources Ltd., the Canadian miner whose biggest source of revenue last year was from coal.
Slowing Chinese demand had led to a global oversupply of the fuel in the past few years, while utilities used less to cut pollution. Chinese coal output is now being curbed because of a new government policy restricting working days in mines, according to Liberum.

Coal's recent performance still caught many off guard. Morgan Stanley, which this month called it a surprise for the market, had in June forecast contract prices of $90 a ton for the third and fourth quarters.
The doubling in coal this year overshadows almost all commodities, with zinc and silver up about 40 percent and iron ore 33 percent.

There's a chance that China may soften its policy on working days in mines to ease the strain that higher coking coal prices have on its steel industry, Liberum's Knights said.
While supply cuts, higher Indian imports and improved steel margins should keep coking coal at $120 to $130 in the near term, there is a risk of an "imminent" pullback given the speed of coal's advance, BMO Capital Markets said last week.
BHP Outlook
Even BHP, the biggest exporter, is pessimistic.
The rally won't be be sustained over the medium-to-longer term, the Melbourne-based miner said in an e-mailed statement. "Recent price increases have been largely driven by a range of policy decisions in China, seasonal factors including wet weather, as well as re-stocking efforts," it said.
Prices have been driven higher by supply shortages that should disappear soon, said Kirill Chuyko, a strategist at BCS Global Markets, Moscow's largest brokerage. "The global coal price rally is a clear bubble that should burst within two to three months."
Before it's here, it's on the Bloomberg Terminal.
LEARN MORE