Bank of America: Here's One Way the ECB's Bond Buying Could Come to an End
A wave of LBOs amid exuberant credit markets.
by and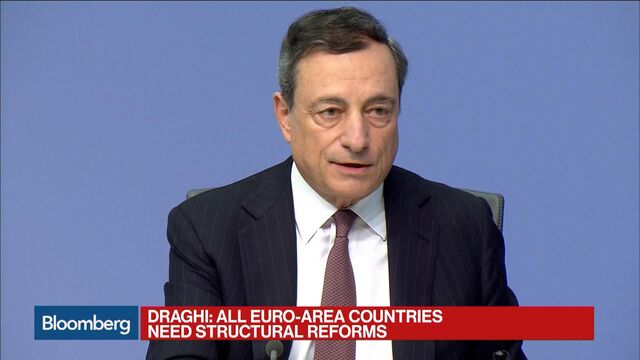 The only thing that can gatecrash the European Central Bank bond-buying-spurred credit party is ... the European Central Bank bond-buying program itself?
That's the conclusion drawn by Bank of America Corp. analysts who argue that the ECB's Corporate Sector Purchase Programme (CSPP) could lower company borrowing costs to levels that would spark a wave of leveraged buyouts (LBOs), creating volatility in credit spreads that could shake investors' faith in the central bank and confidence in the market.
The CSPP could "quickly become its own worst enemy if it leads to a rapid rise in releveraging", the analysts, led by Barnaby Martin, write.

A deluge of LBOs, which involve the acquisition of a public-listed company using a significant portion of borrowed money to take it private, would be just the latest in a string of symptoms suggesting over-exuberant credit markets. This week, for instance, saw the first sale of negative-yielding debt by non-financial companies after Sanofi, a French drugmaker, and Henkel AG, a German household products maker, issued benchmark deals with a yield of minus 0.05 percentage points for three- and two-year notes, respectively.
Such ultra-low yields on corporate bonds could encourage private-equity firms and financial sponsors to drive an uptick in debt-financed buyouts with such a trend inevitably causing a deterioration in target companies' creditworthiness and, as such, take some investment-grade firms into junk territory. In this context, LBOs would mean CSPP-eligible bonds would become ineligible in the ECB's bond-buying plan given the central bank's focus on investment-grade debt.
The BofA analysts add that this event risk would pose a policy dilemma for the central bank: "It would be a very challenging type of event risk for the ECB to manage and could sap their enthusiasm for continuing with CSPP."
In other words, the pro-cyclical impact of a corporate becoming suddenly ineligible for CSPP-inclusion would trigger a disruptive jump in spreads, similar to the credit-cliff effect triggered by a rating-agency downgrade.
Underscoring the increasingly-hospitable debt climate for LBOs is the fact that September is poised to become the busiest month for payment-in-kind toggle notes, which allow companies to defer interest payments and are sometimes issued to finance leveraged buyouts when a borrower might have other debt obligations that need to be serviced with cash. German auto components maker Schaeffler AG, for example, is likely to sell 2.5 billion euros ($2.81 billion) of the notes this week.
Citing recent private-equity interest in TDC A/S, which the Danish phone carrier subsequently snubbed, and news that buy-out firm KKR & Co LP's was one of the bidders for a stake in Spain's Gas Natural, the analysts say there might be an upturn in the European LBO cycle. That's because negative-yielding corporate bonds transform the economics of LBOs, since such issuance would, in effect, help to pay down the principal on the debt tranche of a buy-out deal as companies would be paid to borrow.
With the rapid fall in junk yields, interest coverage — a measure of debt-servicing capacity — for European LBOs has risen this year, they say, indicating companies are more able to service their debts. What's more, the Bank of America analysts reckon negative-yielding BB-rated bonds, excluding callable debt, are nigh.
"Cheap debt can suddenly make unviable candidates appear 'viable' for private equity," they said.


In other words, the unleashing of the animal spirits in the financial-sponsor world through LBOs, driven by record-low debt costs, would haunt bond investors given the ensuing rise in corporate leverage, and the ECB could come under fire for generating volatility in credit spreads. 
LBOs have been criticized in the boom years as an example of financial engineering and predatory capitalism, but the analysts don't mention the prospect of reputational risks for the ECB in the event of an uptick in buy-outs.
It's also far from certain an LBO boom will be forthcoming in Europe, though market conditions are hospitable given the record-low cost of debt capital for sponsors. What's more, even if a boom ensues, and the ECB generates volatility in some credit spreads, it might be seen as a price worth paying in the central bank's bid to reflate the single-currency bloc.
But, with the ECB buying around half of the traded daily volume of euro corporate credit, and overseeing a 65 percent spread-tightening since March of bonds eligible for purchase, according to Citigroup Inc, its presence in the market is profoundly reshaping the euro fixed-income landscape — and the equity market too given the heightened potential for debt-financed M&A, buybacks, and a prospective rise in LBOs. 
Bank of America's sketch of the a possible end-game for the CSPP, therefore, could be seen as a low-probability but high-risk warning for euro credit investors.  
Before it's here, it's on the Bloomberg Terminal.
LEARN MORE