All Eyes on Hollande as French Rivals Stake Claims for 2017 Race
by
Hollande to give hour-long speech on democracy and terrorism

Multiplying rivals heap pressure on president to show his hand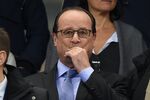 As Paris's political class gets back to work after the summer break, the contenders for next year's presidential election are shifting into gear. With one notable exception.
While former President Nicolas Sarkozy launched his bid last month accusing the government of being soft on terrorists, and Economy Minister Emmanuel Macron quit the cabinet saying it was an obstacle to solving voters' problems, President Francois Hollande is yet to say whether he'll even run.
Some of the advisers who've stuck by Hollande through his hapless presidency are urging their boss to use his first big speech of the new semester this Thursday to give a clear signal that he intends to seek a second term in order to reassert his relevance in the national debate. Prime Minister Manuel Valls said this week that his boss needs set out his course and explain "how another five years with the Left would make sense."
The president is going to disappoint them, according to three people with knowledge of his plans. Instead, he plans a statesmanlike reflection on how France's democratic values can bolster its response to terrorism and bind together its different traditions.
As the election campaign gathers pace around him, Hollande is trying to keep his head above water with allies abandoning him, his party looking at alternative candidates and polls showing him the most unpopular leader in French history. The more cautious counselors who've prevailed so far want him to hold off a formal announcement until December so that he can remain above the fray and capitalize on the prestige of being head of state.
"Hollande remains too unpopular to be a promising presidential candidate," Holger Schmieding, chief economist at Berenberg Bank in London, said this week in a research note. "He seems to be clinging to the hope that a slight improvement in the labor market could allow him to claim that his policies are finally working and enter the fray in late 2016."
Macron Jumps Ship
The French presidency has taken a battering under its current occupant. This summer he raised eyebrows with the amount of time he's dedicated to discussing his achievements -- almost 70 hours with one team from Le Monde newspaper -- while he's still busy overseeing the government.
The latest wound was the drawn-out defection of Macron, his one-time protege. The 38-year-old had been a member of Hollande's inner circle at the Elysee Palace before becoming a minister but began to distance himself from his mentor in April, setting up his own political movement. He quit the government last month, saying his cabinet responsibilities were restricting his ability to set out the solutions to France's problems. Yet he still hasn't made it clear whether he'll run.
Hollande's shadow adviser Julien Dray said in an interview in Liberation newspaper that Macron's betrayal couldn't go unanswered and it was time for the president "to get himself worked up." Another long-time friend of Hollande, who asked not to be named discussing a private conversation, said he'd advised the president against responding and to remain dignified despite his deep disappointment.
Macron would beat Hollande by at least four percentage points in the first round of next year, according to a poll conducted by TNS-Sofres-OnePoint for Le Figaro newspaper. It gets worse for the Socialists -- by dividing the left-wing vote both candidates would be eliminated leaving Sarkozy or former Prime Minister Alain Juppe from the Republicans to face Marine Le Pen in the runoff. In fact, surveys suggest there's no likely scenario in which either Hollande or Macron survives the first round.
Sarkozy's Pitch
With eight months to go before they choose their next leader, French voters are facing a panoply of candidates from Arnaud Montebourg on the left, another disenchanted former Hollande minister, to National Front leader Le Pen.
Polls show that voters are worried about terrorism, skeptical that any of the candidates can revive the economy, and divided on whether their national identity should adapt to the waves of immigration from Africa that have created Muslim ghettos on the outskirts of many cities.
Sarkozy has played on those concerns to invigorate his own campaign as he seeks revenge for his defeat by Hollande in 2012. He's pledged to increase controls on immigration and shunt illegal migrants in Calais heading for the U.K. onto British soil. As the burkini controversy raged over the summer, Sarkozy vowed to change the law to stop Muslim women wearing full-body swim wear because it undermined French values.
"France is not an identity, France is an idea," Hollande responded, speaking to a group of French nationals in Ho Chi Minh City this week. "Nothing would be worse for France than to see freedom as a risk."
When the president takes to the stage on Thursday in the 200-year-old Wagram Hall near the Arc de Triomphe, he'll be aiming to set out a very different vision of how the country can meet those challenges, said one of the aides helping draft the text. The president will be commander-in-chief, global statesman and guardian of the nation, the adviser said. But he won't yet be a candidate for 2017.
Before it's here, it's on the Bloomberg Terminal.
LEARN MORE