Fresh Warning Over U.K. Zero-Hours Contracts
by and
Number of zero-hours workers jumps 21% over the past year

Think tank claims use of contracts is deepening job insecurity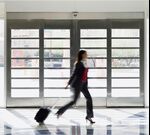 The number of workers on "zero-hours contracts" in the U.K. surged by a fifth over the past year, according to official statistics.
More than 900,000 people worked on a zero-hours basis in their main job between April and June, up from 747,000 a year earlier, the Office for National Statistics said on Thursday. It means almost 3 percent of employees do not know how many hours of work they will get from week to week. 

The use of zero-hours has been under growing political and media scrutiny, with Theresa May singling them out as an area of concern when she became prime minister. Sports Direct International Plc, the target of fierce criticism over its employment practices, bowed to pressure this month and announced it will give its directly employed staff at least 12 guaranteed hours a week. 
The new figures came as a think tank argued the contracts provided flexibility often wanted by workers but are increasingly being exploited by employers. Seventy percent of zero-hours workers over the age of 25 have been on the contracts for more than a year, the Resolution Foundation said in a report.
"For some, zero-hours contracts are symbolic of Britain's job-creating labor market flexibility, while for others they represent the deep insecurity that belies the recent jobs recovery," said Conor D'Arcy, policy analyst at the Resolution Foundation. "The fact that the use of zero-hours contracts has grown –- and the prime minister has chosen to highlight the issue of job insecurity in her maiden speech -– mean that they need far closer, and more measured, scrutiny."
Hard Life
Women make up 55 percent of those on zero-hours contracts and the arrangements are more likely to be used by larger businesses, according to the ONS. The majority of workers do not want more hours, while 19 percent want more and 8 percent want a replacement job with longer hours.
The statistics office said the big increase in zero-hours contracts over the past year may partly reflect greater public awareness of the term.
"The ONS will continue to monitor and report on this trend to help inform understanding of changes in the U.K.'s employment market," said statistician Nick Palmer.
Owen Smith, who is challenging Jeremy Corbyn for the leadership of the opposition Labour Party, has vowed to ban the contracts and May has hinted at action.
"If you're from an ordinary working class family, life is much harder than many people in Westminster realize," the prime minister said when she took over from David Cameron in July. "You have a job but you don't always have job security."
Before it's here, it's on the Bloomberg Terminal.
LEARN MORE