U.S. ELECTION WRAP: Clinton Blowout Chances Dim, Pollster Says
The only thing less likely than a Clinton landslide on Nov. 8 is a Trump victory, pollster says
By and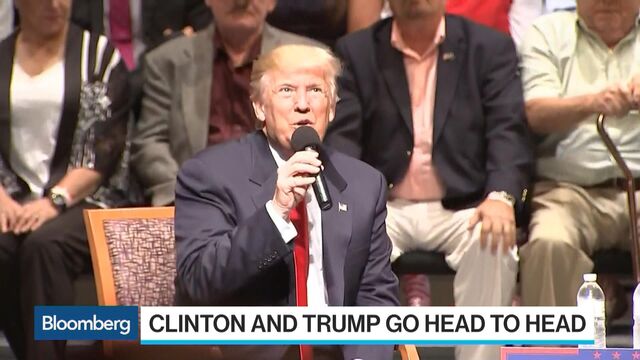 A Hillary Clinton landslide on Nov. 8 is more probable than a Donald Trump victory, but don't bet on either one, Democratic political consultant Mark Mellman said.
A more likely scenario is a 2-6 point Clinton win in the popular vote, Mellman predicted in a phone interview today with Bloomberg
While Clinton's lead over Trump has narrowed, the GOP nominee has been ahead in only two of more than 40 national polls taken since the Democratic National Convention began on July 25, and those particular findings are "quite questionable," according to Mellman, who has more than 30 years of experience in politics
Since 1952, all presidential candidates who had a lead two weeks after the conventions went on to win the popular vote on Election Day, Mellman wrote today in The Hill, citing The Timeline of Presidential Elections by professors Robert Erikson and Christopher Wlezien

As for prospects for the GOP-led Congress, Democrats are well positioned to regain Senate control, though it's not a "done deal," while winning back the House would require an unlikely Clinton landslide, Mellman said

GOP Senate and House candidates face a "serious dilemma" in figuring out how to court swing voters who back Trump without alienating those who don't: Mellman
Read story here by Bloomberg's Steven T. Dennis on the outlook for Democrats and a new Congress
Ambivalence about Trump was on display earlier today when Republican Senate Foreign Relations Chairman Bob Corker skirted around a question on why the GOP nominee would make a better commander-in-chief than Clinton

"Well look, I didn't come on the program to talk about politics," Corker said in response to the question on MSNBC's "Morning Joe"

When pressed on the matter, Corker said he believes Trump is "shaking up the foreign policy establishment" and "growing" in his understanding of the issues
Corker said neither Trump nor Clinton has been "very crisp" in articulating how to deal with ISIS or other critical matters

"Look, neither of the campaigns, to my knowledge, have laid out much of anything that is specific relative to getting people back to work, growing our economy, dealing with the entitlement program, dealing with the massive debt, which is the greatest treat to our nation," Corker said
He expressed hope that moderators of upcoming debates push the presidential contenders on these matters

Trump in Philadelphia outlined his foreign policy and defense plans, including expanding the U.S. military and asking Congress to lift defense spending caps; read full story here
Both Clinton and Trump will appear tonight on an NBC News "Commander-in-Chief Forum" focused on national security, veterans issues and military affairs
Click here to get the U.S. Election Wrap by e-mail every afternoon

POLLS/PREDICTIONS
Tonight's forum comes as Trump leads Clinton by 19 points, 55%-36%, among voters who are currently serving or have previously served in the U.S. military, according to a NBC News|SurveyMonkey Weekly Election Tracking Poll
An Arizona survey shows a tight race in the state, with Clinton at 35.1% and Trump at at 33.5%, according to an Arizona Republic/Morrison/Cronkite News poll

Mitt Romney won Arizona by 10 pts in 2012, John McCain by 9 pts in 2008

ENDORSEMENTS
Starbucks CEO Howard Schultz told CNN Money he backs Clinton
The former first lady also won an endorsement from the Dallas Morning News; the newspaper called Clinton the only serious candidate on the ballot

It's the first time in more than 75 years the paper has endorsed a Democrat for president
Republican National Cmte strategist and Trump adviser Sean Spicer dismissed the endorsement today on MSNBC
"I get they don't generally do that, but that does not worry me. Texas is going to maintain very red. I think we are going to do just fine"

He also rejected the idea that Trump might lose Arizona and Georgia
A day after Trump unveiled a list of 88 retired generals and admirals supporting his candidacy, Clinton came out with a list of 95 such backers

ADVERTISING
In a bid to propel his candidacy onto the presidential debate stage later this month, Libertarian Gary Johnson is deploying an unusual advertising strategy to help him meet requirements for participation; read full story by Bloomberg's John McCormick here
A group of documentary filmmakers is launching a new anti-Trump ad campaign, with the first TV spot airing in Butler County, Ohio, on Wednesday, Variety reported

The first ad shows a Republican woman who says that she can't vote for Trump
The ads are sponsored by Local Voices, a Democratic super-PAC founded by Lee Hirsch, director of the documentary "Bully"; the group seeks to raise $5 million and create more than 50 ads to run in Ohio, Florida, Pennsylvania, North Carolina, Arizona, Georgia and Utah, according to the entertainment industry publication

ETC
Trump campaign manager Kellyanne Conway, deflected a question about whether it would be improper for Roger Ailes to advise Trump on the upcoming debates, given the sexual harassment allegations made against the former Fox News chairman

"I'm at Trump Tower every day," Conway said on ABC's "Good Morning America." "I've never seen Mr. Ailes there. I saw him one time for lunch recently"
When asked on MSNBC if Trump should cut ties with Ailes, Spicer said the ex-TV executive is "innocent until proven guilty"
Spicer added that Trump and Ailes have been friends for decades and continue to maintain that friendship

Liberal watchdog group Citizens for Responsibility and Ethics said in a complaint today that the IRS should investigate the Donald J. Trump Foundation for a $25,000 campaign donation it made to Florida Attorney General Pam Bondi, Bloomberg BNA reported

The Trump Foundation didn't immediately return a request for comment
NOTE: Trump has said he never spoke to Bondi about the donation from his foundation to a group with connections to her at a time when her office was looking into fraud allegations against Trump University

WikiLeaks founder Julian Assange told Fox News' "Hannity" that he plans to release several batches of documents pertaining to the Clinton campaign within the next few weeks and the first could come out as soon as next week
As Clinton has increased her press availability, one big question she hasn't answered is whether she'd e-nominate Merrick Garland to the open seat on the Supreme Court; read full story here by Bloomberg's Greg Stohr
With Clinton claiming Trump can't be trusted with nuclear weapons and Trump calling Clinton "close to unhinged, Bloomberg News asked Bruce G. Blair,  a former Minuteman missile-launch officer and research scholar at Princeton University's Program on Science and Global Security, to spell out the step-by-step procedure for launching a nuclear strike; read it here 

CONGRESSIONAL ELECTIONS
SENATE RACES (Republicans hold 54-46 majority)
FUNDRAISING: Republican super-PAC Senate Leadership Fund and allied issue-advocacy group One Nation together raised $42m in August, Politico reported

Both groups led by Steven Law, ex-chief of staff to Majority Leader Mitch McConnell

AK: Joe Miller will be Libertarian nominee in second attempt to unseat GOP Sen. Lisa Murkowski, Alaska Dispatch News reported

Miller, a lawyer, defeated Murkowski in 2010 Republican primary with help from Tea Party-aligned groups, Murkowski then won re-election as write-in candidate; Miller also lost 2014 GOP Senate primary to Dan Sullivan, who holds state's other Senate seat
Democratic nominee Ray Metcalfe hasn't filed any campaign finance reports with Federal Election Commission

AZ: GOP Sen. John McCain and National Republican Senatorial Cmte released TV ad saying Democratic Rep. Ann Kirkpatrick votes frequently with liberals, "thinks Hillary Clinton is trustworthy," and "betrayed Arizona on Obamacare"

Kirkpatrick is only House Democrat in current 114th Congress from district Obama didn't win in 2012 who voted for 2010 health-care overhaul
McCain, other GOP senators introduced bill to exempt Americans in counties with only one or no insurers on Obamacare exchange from paying penalty for failing to get health insurance, Bloomberg reported

FL: Democratic Rep. Patrick Murphy's campaign aired TV ad showing two kids playing swimming-pool tag game "Marco Polo" as Murphy chides GOP Sen. Marco Rubio for missing votes to run for president

"Florida needs a full-time senator," said Murphy, who also emphasized protections for Planned Parenthood, Medicare in ad
National Republican Senatorial Cmte released TV ad attacking Murphy for embellishing résumé

NC: Republican Sen. Richard Burr and NRSC released TV ad featuring couple praising Burr for his work on 2014 law creating tax-favored accounts for disabled

Democratic opponent Deborah Ross, ex-state legislator, said in TV ad Burr "has taken more than a million dollars from insurance companies and wrote his own plan to privatize Medicare"
Ross ad refers to Center for Responsive Politics analysis that Burr has received $1.2m in 22-year congressional career from political action committees/individuals affiliated with insurance industry

NH: Democratic Gov. Maggie Hassan's campaign released TV ad saying GOP Sen. Kelly Ayotte isn't independent when she "votes with the Koch brothers 90% of the time" and is the "special interests' senator"

Ad refers to Ayotte's scores during first four years in Senate from conservative issue-advocacy group Americans for Prosperity, linked to billionaire businessmen David and Charles Koch; in current 114th Congress, Ayotte has lower 70% score from AfP after voting to extend Export-Import Bank, opposing most Republicans on two environmental policy votes
Ayotte's campaign in statement said she's "the only candidate who will stand up to do what's right for New Hampshire, regardless of party"
Hassan raised $2.2m to Ayotte's $1.4m from July 1 to Aug. 24, while Ayotte had more cash-on-hand, $5.4m to $3.3m, according to FEC filings ahead of Sept. 13 primary

OH: Republican Sen. Rob Portman with Ayotte and Wisconsin GOP Sen. Ron Johnson introduced legislation seeking to stem trafficking of synthetic drugs like fentanyl and carfentanil, according to statement from Portman's office

Portman has touted work on new law to curb heroin/opioid abuse as he seeks second term against Democratic ex-Gov. Ted Strickland

PA: GOP Sen. Pat Toomey in e-mail fundraising solicitation said "if I lose in November, it is almost a certainty that Democrats will control the Senate"

Toomey referenced Sabato's Crystal Ball last week shifting rating of race to Leans Democratic from toss-up, giving Democratic challenger Katie McGinty slight advantage

WI: Johnson in TV ad said he's only "manufacturer" in Senate that has "way too many career politicians," contrasting his 31-year background as plastics business executive with Democratic ex-Sen. Russ Feingold's long service in political office

Feingold lost bid for 4th term to Johnson in 2010; public polls show Feingold ahead in rematch
HOUSE RACES (Republicans hold 246-186 majority)
Before it's here, it's on the Bloomberg Terminal.
LEARN MORE