Sports Direct Chairman Faces New Vote as Re-Election Opposed
By and
Shares fall 11% in London trading, extending annual decline

Founder Mike Ashley has no intention of taking company private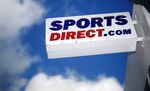 Sports Direct International Plc Chairman Keith Hellawell faces another investor vote over his position after a majority of the U.K. retailer's independent shareholders opposed his re-election following a tense annual meeting.
A resolution to re-appoint the former British police chief was defeated, with 53 percent of votes against, the sports-apparel retailer said in a statement Wednesday. In accordance with U.K. listing rules, shareholders will vote again at a meeting to take place in the next 90 to 120 days.
The result of the vote is "a kick in the stomach," Claire Jenkins, a non-executive director, said at a press conference after the annual meeting. About a third of independent shareholders voted against her re-appointment, and that of fellow non-executive directors Simon Bentley and Dave Singleton.
The vote shows the weight of investors' discontent with Sports Direct and billionaire founder Mike Ashley amid criticism of the retailer's working practices and concern over corporate governance. Hellawell offered to resign over the weekend, but was persuaded to stay by the company's board. He will step down next year if he still doesn't have the support of independent shareholders, he said at Wednesday's meeting.
Renewed Call
One of the company's main shareholders, Legal & General Investment Management, renewed its call for Hellawell to quit. Legal & General owns almost 1 percent of Sports Direct's shares, according to data compiled by Bloomberg.
"At absolute minimum, we believe the current chairman should step down immediately and an external, independent appointment made to oversee management," Sacha Sadan, the investor's director of corporate governance, said by e-mail.
Hellawell's immediate position looks assured because the second vote will be determined by a simple majority of all shareholders, according to Jenkins. Ashley, the company's founder and deputy chairman, owns about 55 percent of the stock and voted to re-elect Hellawell at the annual meeting. He has no intention of taking the company private, Sports Direct said Wednesday.

The shares fell 8.4 percent in London, capping a 59 percent drop over the past 12 months, after the company forecast profit below analysts'  estimates, the third blow to earnings expectations this year.
Underlying earnings before interest, taxes, depreciation and amortization will be about 300 million pounds ($403 million) in fiscal 2017, down from 381 million pounds a year earlier, the retailer said Wednesday. Capital spending will increase "substantially" as Sports Direct expands and remodels its store network, it also said.
Speaking at the press conference, Hellawell defended his offer to resign, saying he's not a quitter.
"There were a lot of questions about my ability to chair this company," said the 74-year-old. "From an integrity point of view, it was right to offer my resignation. I believe I can help the company resolve some of its issues."
Governance Review
The retailer said Tuesday it will look into its corporate governance as part of a 12-month review of labor practices, and issued an apology for what it called "serious shortcomings" in warehouse labor practices. Sports Direct will also appoint a worker representative to its board as it seeks to assuage criticism from U.K. lawmakers.
To appease critics, the company declared Wednesday's meeting an open day, with Ashley showing reporters and analysts around its main warehouse.
For a QuickTake Q&A explainer on Sports Direct, click here
In its statement, Sports Direct affirmed Ashley's commitment to the business he founded in 1982. The billionaire is determined to execute a strategic plan over the next two to four years, the company said.
"Mike Ashley's commitment to the business for a specific time period may raise some eyebrows, and could also signal an intent to pass over the reins," Graham Renwick, an analyst at Exane BNP Paribas, said in a note.
Before it's here, it's on the Bloomberg Terminal.
LEARN MORE