Selling a $5 Million, Seven-Story Basket Is No Picnic
Its size, location, and fundamental basket-ness make it tough to sell, even at a steep discount.
By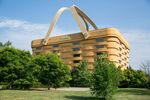 "You might see it three or four miles off before you come around the bend, and then you say, 'That is a basket. That is unquestionably a basket,'" said Tom Rochon.