Renaissance for Russian Market Turns Back Clock on Recession
By
Stocks climb to records, bond rally rivals top among peers

Credit risk falls to levels last seen before sanctions
Russia's recession isn't even over but you wouldn't know it by looking at the nation's financial markets.
Stocks reached all-time highs this week and the rally in bonds has sent five-year yields lower for eight straight days, capping the second-biggest drop in emerging markets. Demand for the country's assets has propelled the ruble to its biggest four-day gain in almost a month while volatility sinks and credit risk retreats.
Sentiment is improving as Russia nears the end of a two-year recession and last month's tensions with Ukraine didn't erupt into a full-blown crisis. The country has also benefited from global demand for higher-yielding assets as investors seek to escape negative rates arising from unprecedented central bank stimulus on almost $10 trillion of sovereign debt.
"The market is more confident that the worst is behind for Russia," said Pavel Laberko, a London-based money manager at Union Bancaire Privee, which oversees about $90 billion. "It appears the economy has finally found the bottom."
Union Bancaire Privee started buying Russian banking stocks over the past week and sees "a lot" of potential in electricity generators, Laberko said. Declining oil prices and waning global demand pose risks to the rally, he said. Bank of America Corp. recommended going long Russian stocks on Thursday on bets crude will recover next year, while Citigroup Inc. said the nation's equities can return 27 percent by the end of 2017.
The following charts show some of the key metrics behind the rally.

Russian stocks are the cheapest equities in emerging markets, with the Micex Index trading at 6.6 times estimated earnings, about half of the multiple for the MSCI Emerging Markets Index. Global appetite for riskier assets on bets the Federal Reserve won't raise interest rates this month has driven Russian stocks to new heights, according to Vladimir Vedeneev, chief investment officer at Raiffeisen Asset Management in Moscow.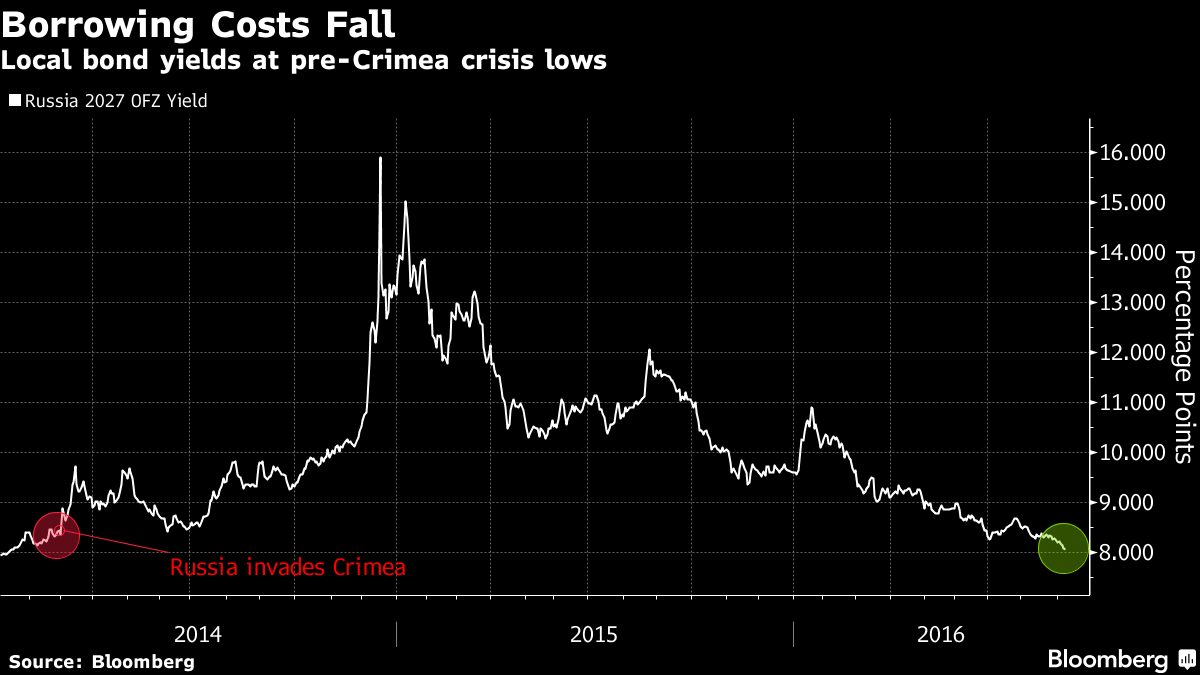 The ruble's stabilization and bets that the Bank of Russia will resume interest-rate cuts as inflation slows have made Russia's local bonds one of the best performers in emerging markets this year. So-called OFZs have handed investors a return of 25 percent in dollar terms, the most after Brazil and South Africa.

The cost of insuring Russian debt against default has dropped back to levels last seen in July 2014, before the European Union sought to punish President Vladimir Putin with expanded sanctions for his role in the Ukraine crisis. Default swaps have retreated in the past two weeks as Putin hasn't followed through with threats to retaliate for alleged terrorism by Ukraine in Crimea.