markets
RBA's Lowe Says Supervision Key to Post-Crisis Reforms' Success
By
Incoming governor speaks in Sydney conference on global risk

'No set of rules can deal with all risks and problems': Lowe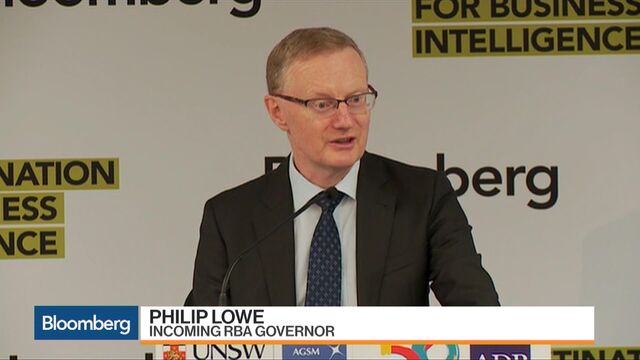 Reserve Bank of Australia Deputy Governor Philip Lowe said strengthening supervision of the global financial system is just as important as new regulations for maintaining stability.
In the text of remarks opening an Asian Development Bank conference in Sydney, Lowe also noted research being undertaken by the Bank of International Settlements on responses to "systemic weakening" of balance sheets. It has, he said, advanced the hypothesis that in some circumstances the build-up of financial imbalances may be a better guide to the sustainability of growth in the economy than the current rate of inflation.
"Clearly, this hypothesis needs to be tested," said Lowe. "If it were found to be valid, it would have implications for policy makers in a number of spheres, including monetary policy, prudential policy and even fiscal policy."
Lowe, who replaces Governor Glenn Stevens at the helm of the RBA on Sept. 18, didn't mention monetary policy or the outlook for Australia's economy. The focus of the conference was global, with officials from around the world attending. Instead, he ranged over:
how to make the financial system more resilient in a world where capital flows easily across borders;
how to characterize and respond to episodes of financial boom and bust; and
what determines the level of exposure to systemic risk and how it can be identified and analyzed.

Lowe concluded it was easy to rely on regulatory initiatives because they can be "printed, measured and enforced." But, he said, history teaches rules can't solve all problems.
"The financial system evolves, so no set of rules can deal with all risks and problems," he said. "My view is that a strengthening of supervision is at least as important as are the post-crisis regulatory reforms. Rigorous, inquiring supervision that takes a holistic view of the environment is essential to maintaining financial stability and good outcomes for consumers."
Before it's here, it's on the Bloomberg Terminal.
LEARN MORE