quicktake
QuickTake Q&A: The Sporting-Goods Billionaire Under Fire in U.K.
By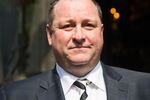 Sports Direct International Plc and its founder, billionaire Mike Ashley, have grabbed headlines for all the wrong reasons this year. Britain's biggest sporting-goods retailer has been admonished by lawmakers for presiding over "appalling" treatment of workers at its main warehouse and come under fire from shareholders over corporate governance. Shares have fallen more than 50 percent in the past year, cutting the company's market value to 1.9 billion pounds ($2.5 billion), behind a surging competitor, JD Sports Plc. 
1. Why is Sports Direct so controversial?

Founded by Ashley in 1982, Sports Direct has more than 530 stores and annual sales of almost 3 billion pounds. It was listed on the London Stock Exchange in 2007. Ashley has always held a majority stake and maintains a firm grip on the way the business is run, leading to strained relations with investors who want a strong and independent board. The company's working practices, and in particular its treatment of staff, have drawn scrutiny.
2. What are the working conditions?
Most workers have zero-hours contracts, which don't guarantee a minimum number of hours and often offer work only on short notice. Warehouse employees are mostly supplied by outside agencies. An undercover investigation by the Guardian newspaper found evidence of warehouse staff being paid below the minimum wage and facing possible dismissal for accumulating "six strikes" for infractions such as getting a drink of water outside set break times. About 80 percent of the retailer's staff are employed on a temporary basis.
3. What pro-worker steps are being taken?
At a June hearing before a parliamentary committee, Ashley acknowledged that certain practices -- such as delaying workers to search them before they can leave -- are "unacceptable." Yet he repeatedly said he couldn't be held responsible for "every single thing" that happens at the company. In September, Sports Direct said its review of labor practices had found "serious shortcomings" and it would begin offering workers the option of taking a contract with at least 12 guaranteed hours a week. It also said it may try hiring 10 people per month from among the warehouse workers supplied by employment agencies.
4. Will that be enough?
Not for some. Royal London Asset Management (RLAM), an investor, said the guaranteed-hour initiative "sets the bar quite low." The U.K.'s Institute of Directors, a business group, said the changes were "only the first step towards restoring shareholder and employee trust."
5. What's wrong with corporate governance?
The company has spent two years without a finance director and in search of a non-executive director to replace the former Irish government minister Charles McCreevy. (Headhunters say it's not exactly a plum role.) Ashley has put his brother and others close to his family into key positions at the company. The Investor Forum, whose 40 members manage assets worth more than 14 trillion pounds, has called on the company to start an independent review of its entire corporate governance structure. RLAM has called for Chairman Keith Hellawell, a 74-year-old former policeman, to resign.
6. Can shareholders force changes?
Probably not. Ashley owns about 55 percent of the stock, so independent investors are effectively restricted to a protest vote. At this year's general meeting, held Sept. 7, a majority of independent shareholders voted against extending Hellawell's tenure, though Ashley cast his majority in Hellawell's favor. Hellawell said he will step down next year if he still lacks the support of independent shareholders.
7. What happens next?
Law firm and company adviser RPC will widen its review of working practices to include corporate governance. It will report back to the Sports Direct board before next year's annual general meeting.
The Reference Shelf
The report on working practices prepared for Sports Direct's board and released yesterday.
A Bloomberg story on Sports Direct's worker exodus.
Before it's here, it's on the Bloomberg Terminal.
LEARN MORE