Messi's Barcelona Lands in New York With $1 Billion Goal
By
Spanish soccer team is latest club to set up a U.S. outpost

Club sees starpower of Messi, Neymar drawing sponsor dollars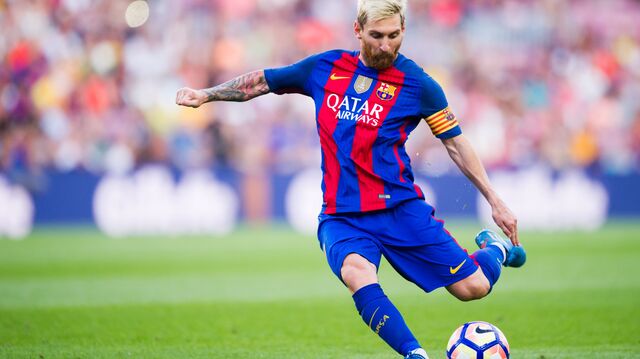 Spanish soccer club Barcelona is opening an office in New York, banking on the star power of Lionel Messi and Neymar to attract sponsors and propel annual revenue past $1 billion, team officials said.
Barca, as the team is known, already has partnerships with American brands including Gatorade, Black & Decker, Gillette and Nike, which has been affiliated with the La Liga club for about 20 years, club President Josep Maria Bartomeu said Tuesday.
The club plans to increase annual revenue to $1.1 billion by 2021, a 46 percent increase over the $753 million it makes now, said Francesco Calvo, the team's chief revenue officer.
Neither Calvo nor Bartomeu were specific about which companies might become sponsors, saying only that deals might be announced in the upcoming weeks and months. The club is also seeking a naming-rights partner for its home stadium, Camp Nou.
Barca isn't the first big-name European club to court American fans with exhibition games and an outpost in the country's No. 1 media market. German powerhouse Bayern Munich opened its New York office last year.
"We are not following other clubs," Bartomeu said. "We are following our strategic plans, opening our club to the world."
The two-time defending La Liga champion also has an office in Asia, which Bartomeu said is the club's largest market.
Barca is worth $3.5 billion, second only to Real Madrid ($3.6 billion), according to Forbes' worldwide rankings. England's Manchester United is third at $3.3 billion.
Real Madrid's Cristiano Ronaldo is soccer's highest-paid player at $82 million, followed by Messi at $77 million, Forbes said. Neymar is fourth, behind Manchester United's Zlatan Ibrahimovic, at $36 million.
Before it's here, it's on the Bloomberg Terminal.
LEARN MORE