Merkel Says More Needs to Be Done in Defense of Refugee Policy
by and
Anti-immigration AfD is challenge to all parties, Merkel says

Chancellor urges moderate tone in political discourse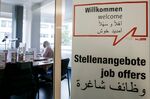 German Chancellor Angela Merkel said her government has done everything it can to reduce the influx of refugees as she defended her policy in the face of political criticism and voter discontent.
"The situation today is many times better than it was a year ago, but there is still a lot to do," Merkel told lawmakers in the lower house of parliament, or Bundestag, on Wednesday.
The chancellor cited her government's overhaul of the refugee agency and introduction of an integration law as examples of the progress Germany has made assimilating refugees, though said more must be done to speed up deportations for those who don't qualify for asylum. After about one million refugees entered the country last year, the government expects some 300,000 in 2016.
Merkel is on the defensive after her Christian Democratic Union was defeated by the anti-immigration Alternative for Germany, or AfD, in a state election Sunday. She took responsibility for the loss, but said she plans to press ahead with her migration policy.
The chancellor said the AfD poses a challenge to all parties in parliament, not just the CDU, as she urged politicians to moderate their political discourse in response to populism.
"If we begin to escalate our tone, then only those who speak in simpler and clearer terms will win," Merkel said.
Before it's here, it's on the Bloomberg Terminal.
LEARN MORE