markets
Merkel Rejects 'Easy Answers' in Slap at Populist Take on Crises
By and
Chancellor's budget speech seeks to buoy her above the fray

AfD wins must be confronted by a steady hand, Merkel says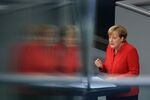 Chancellor Angela Merkel urged Germans to embrace global change and consider the country's international responsibilities as she went on the offensive to justify her policies that have alienated voters.
Addressing parliament three days after an anti-immigration party defeated her Christian Democratic Union in a state election, Merkel sought to stand above the political fray and reclaim her role as defender of economic and social stability. She signaled she won't stoop to populist rhetoric to win back voters, saying there are no easy answers.

Listing the crises swirling around Europe, from the "deep watershed" of Brexit to terrorism, demographic change and attacks on national borders as witnessed in Ukraine, Merkel said on Wednesday she'll resist pressure for "seemingly easy solutions that are actually illusory solutions."
"Many countries expect Germany in particular to play an important role, as we just saw at the G-20" summit in China, Merkel said in her lower-house speech. "Germany is economically strong and stable. In these times of globalization, we serve our country best if we're guided by the values that made us what we are: freedom, security, justice and solidarity."
A year before Germany's next national election, Merkel's approval ratings are in a slump after about 1 million asylum seekers arrived in Germany last year. She pushed back by citing the stability of her government's fiscal policy and its achievements in reining in refugee numbers. German authorities expect the influx to recede to some 300,000 this year.
"The situation today is many times better than it was a year ago, but there is still a lot to do," Merkel said.
Anti-Immigration Party
In a speech that ostensibly addressed the German 2017 budget, which is projected to be in surplus for the fourth year in a row, Merkel presented Europe's biggest economy as an anchor of stability that can withstand the political change buffeting Europe.
"Change isn't a bad thing," Merkel said, pointing to herself as one who observed the collapse of communist East Germany and the reunification of Germany. "Germany will remain Germany, with everything we hold dear."
The chancellor confronted her domestic political plight full-on, citing advances by the anti-immigration Alternative for Germany, or AfD, which won more than a fifth of the vote -- more than the CDU -- in the eastern state of Mecklenburg-Western Pomerania on Sunday. She sought to cast the AfD as a threat to all established parties, not just her own.
The AfD "is a challenge to all of us in this house," Merkel said. "I'm very convinced that if we keep our composure and stand by the truth, then we'll win -- and we'll win back the most important thing we need, the trust of the people."
Poll Ratings
Merkel's public support slid to a five-year low of 45 percent in August, according to an ARD Deutschlandtrend poll. About half of German's don't want her to run for a fourth term, a poll for Bild newspaper showed on Aug. 28.
Merkel's CDU still leads in all national polls, with 33 percent support in a Forsa poll published Wednesday compared with 41 percent a year ago. The Social Democrats, her junior coalition partner, have 22 percent support.
Before it's here, it's on the Bloomberg Terminal.
LEARN MORE